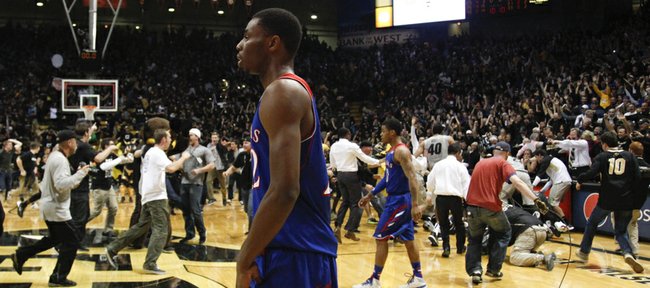 Photo Gallery
KU basketball v. Colorado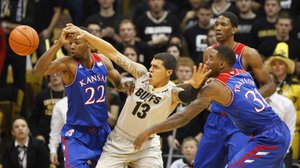 Images from Saturday's matchup between the Jayhawks and Buffaloes at the Coors Events Center in Boulder, Colorado.
Podcast episode
Bill Self after 75-72 loss at Colorado
Colorado 75, Kansas 72
Boulder, Colo. — It took awhile, but Bill Self and his Kansas University Jayhawks have finally experienced the agony of defeat against Colorado.
"Every other time we played here, it was a home game for us for the most part," Self, KU's 11th-year basketball coach, said after KU's 19-game winning streak against the Buffs came to a crashing halt, courtesy of a 30-foot three-pointer by Askia Booker at the buzzer — the difference-maker in a 75-72 setback to the Buffs (9-1) .
"That certainly wasn't the case tonight."
Not at all.
A sellout Coors Events Center crowd of 11,113 consisted of 90 percent — or more — fans of CU. In the past, when CU was a member of the Big 12 and Big Eight, the Jayhawks had up to 50 percent of the fans in the building.
This was the first time Self saw the CU's fans storm the court after the shocking shot that gave KU (6-2) two losses in its last three games. Self had entered the day 18-0 versus CU.
"I'm concerned because we are not playing very well," Self said. "I'm not concerned because I know it's a marathon, not a sprint. We'll go through this. The way the schedule is set up, it could happen again. We are playing good teams and playing them away from home. It certainly could happen again."
KU, in fact, heads to Florida on Tuesday to play the Gators (6-2).
"We didn't think we'd be a great team by Christmas," Self said. "That's being totally unrealistic. The preseason ratings ... they shouldn't have had us there (at No. 5). We could play to that at the end. We couldn't play to that now. There's too much stuff to go over and learn and grow. I hate to lose, but if we can learn through losses, it's not the worst thing. Once you get to January and February, you can't lose if you want to win league. It's all preparation for the second part of the season."
He was bothered by the way KU lost this one.
First, KU tied the game at 72 on a driving layup by Perry Ellis with four seconds left.
"It was perfect. Pick and pop with their big guy guarding Perry and drive it. He made a good play," Self said of Ellis (10 points, eight rebounds), who executed a play called in a timeout huddle. CU, which took the ball out 90 feet from the basket, wound up having enough time to bust the tie in regulation.
First, Landen Lucas deflected an in-bounds pass out of bounds, giving the Buffs 2.9 seconds to score. Xavier Johnson inbounded to Booker, who stormed past Frank Mason past halfcourt and launched about 30 feet from the goal. The shot swished, and fans streamed onto the court, celebrating CU's first win versus KU in Boulder since 2003.
"I thought he (Booker) traveled," Self said, when asked specifically if the 6-foot-2 junior guard walked with the ball. "I don't know ... it may have been that 'Euro big two-step' deal. It doesn't make any difference. We let him get ahead of us. You've got to make him catch in front of you. We got on the side. You can't do that. It's a little frustrating.
"Our philosophy is, make him catch it in front of you, switch all ball screens or handoffs, guard him, make him make a hard shot. In that particular situation, we (Mason) got on the side, he was able to clear himself where he had at least an open look. It wasn't awful (defense). It was more a credit of him making a good play than it was bad defense. Still, I wish we could do it over again."
It actually helped CU that Lucas busted up the first in-bounds attempt.
"We got a deflection the first time, which probably ended up being a blessing for them because instead of 3.0 in the dead corner, they get it to the free-throw line (extended) and 2.9 seconds. So it turned out a blessing for them. He made two good plays to end the half and the game."
KU freshman Andrew Wiggins, who was fouled on a deep, straight-on three with KU down 71-68 with 12.8 ticks left, made two of the three free throws. Spencer Dinwiddie (15 points) hit one of two charities at 12.8, giving the Buffs a 72-70 lead, setting the scene for Ellis' game-tying bucket and ultimately Booker's heroics.
Wiggins was actually the last line of defense on the Booker three.
"It's the last second. Of course he's going to shoot the ball," Wiggins said. "I didn't know if he was going to make it or not."
Wiggins finished with 22 points off 7-of-11 shooting, while Frank Mason had 11 and Ellis and Joel Embiid 10 each.
"We actually played well down the stretch. We didn't get stops," Self said. "We kept fouling (the Buffs hit 22 of 37 free throws to KU's 13-of-20). I still think after the first 10 minutes, they controlled the game."
KU led by as many as nine the first half (18-9 and 21-12) and trailed by as many as nine (53-44) the second half.
"We didn't panic down the stretch, when it's hard to communicate," Self said. "We did some good things. We drove it. The thing that bothers me is, we gave them free points, and you can't do that when you are trying to come back. We did a bad job getting back and keeping the guy in front of us.
"We're not playing well at all. The pieces aren't quite fitting yet. We're trying to find ourselves. We're not a real good shooting team. We're not a real good passing team. We're not a real physical team. Those are things we have to improve on big-time. I knew we'd labor. We could make up for that with energy and stealing extra possessions. We have become a team that is losing out on that battle too often. That was the case today, especially the first half."
Next chance for improvement is 6 p.m. Tuesday in Gainesville, Fla.
More like this story on KUsports.com