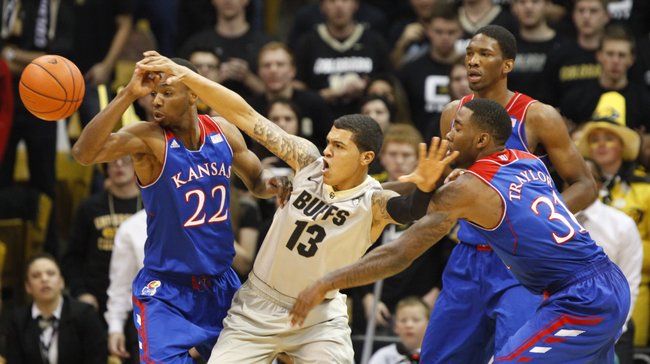 Photo Gallery
KU basketball v. Colorado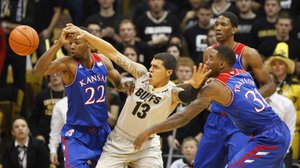 Images from Saturday's matchup between the Jayhawks and Buffaloes at the Coors Events Center in Boulder, Colorado.
Colorado 75, Kansas 72
Boulder, Colo. — Freshman Andrew Wiggins, who is expected to be Kansas University's go-to guy this basketball season, launched a possible game-tying shot with 12 seconds left and KU down, 71-68, on Saturday in the Jayhawks' 75-72 loss at Colorado.
He was hacked by Spencer Dinwiddie on the play, sending him to the line for three free throws.
Wiggins made the first and third and missed the second, but he wasn't the goat as Perry Ellis wound up tying the score at 72 off a driving layup with four seconds left.
"I was confident I'd make them all. Unfortunately I missed one," Wiggins said of the free throws.
He finished with 22 points and five rebounds. The freshman guard was crushed when Askia Booker swished a three at the final buzzer to give the Buffs (9-1) the win over KU (6-2).
"We worked hard to get back in (the game)," Wiggins said of KU erasing a nine-point second half deficit. "We wanted to win. Unfortunately the last couple seconds didn't go our way. It was a tough loss. We fought back hard. We thought we had it."
Wiggins hit five of seven shots the second half and scored 17 points.
"Being aggressive and driving to the basket ... that's what I'm best at," he said.
Embiid has fine first half: Freshman center Joel Embiid had 10 points the first half and none the second. He finished with four rebounds and three steals.
"I think we played well at moments. Other times we did not," 7-footer Embiid said.
Of KU's performance against a Colorado zone that appeared to bother KU greatly, Embiid said: "I think it's more easy to score in the zone. We didn't really attack it like we do in practice."
Boyle beats alma mater: Former KU guard Tad Boyle won for the first time against his alma mater in five tries.
"Tad is doing a great job. I told our guys I hate this (losing), but if we were going to lose ... Tad does it the right way. He's building this thing. I'm happy for him," Self said.
Bad zone: KU used a zone defense at times in the second half.
"Bad, bad," coach Bill Self said of its effectiveness. "What it did, though, was made them slow down. It served its purpose. I didn't think it was great by any stretch."
Mason scores 11 in start: Freshman point guard Frank Mason scored 11 points with four assists against two turnovers in 34 minutes. He was making his second start of the year. Junior point Naadir Tharpe came off the bench to collect eight points, two assists and no turnovers in 28 minutes.
Self said he didn't know if Mason would start Tuesday at Florida.
"He did fine. He played the most minutes. He did fine," Self said of Mason. "He wasn't the reason why we didn't win."
Oubre erupts: KU signee Kelly Oubre scored 52 points in Findlay Prep's 112-61 victory over Options Academy on Friday night. He is a 6-7 wing originally from New Orleans who is ranked No. 12 by Rivals.com in the Class of 2014. Findlay Prep is located in Henderson, Nev.
White's brother hits for 39: Andrien White, the 6-3 brother of KU sophomore Andrew White, scored 39 points and grabbed 12 rebounds in Thomas Dale High's (Chester, Va.) victory over Prince George on Friday night. Andrew White didn't score in a four-minute stint versus Colorado.
Playing days: Boyle's college career at Kansas coincided with Self's at Oklahoma State. Self, who is 10 days older than Boyle, went 5-5 against Boyle's KU teams from 1981 to '85.
KU had been dominant: KU entered having won 19 in a row and 46 of its last 47 over the Buffs, who went 0-3 versus KU three seasons ago in Boyle's first season in Boulder, CU's last season in the Big 12.
KU has won 29 in a row over CU in Allen Fieldhouse, CU's last win coming during Boyle's senior season at KU.
KU had an eight-game win streak snapped at Coors Events Center. KU had won 19 of the last 20 dating from 2011 back to 1991.
Booker rebounds: CU junior guard Askia Booker, who scored 15 points off 3-of-6 three-point shooting versus KU, went 0-for-6 from three-point range Tuesday against Colorado State.
"Ski is a guy who is resilient. He's tough-minded. As long as he's taking good shots, which I think he is (there's no need to be concerned). In years past, it was like, 'OK, he's taking some tough some shots.' His jump shot and his threes, I don't worry about. He'll be fine," Boyle told the Boulder Daily Camera before the game.
Booker, who also hit a three to conclude play in the first half, entered 10-of-42 from three (23.8 percent).
More like this story on KUsports.com