Photo Gallery
KU basketball v. Colorado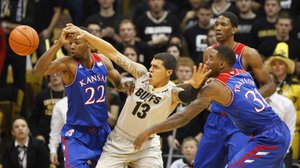 Images from Saturday's matchup between the Jayhawks and Buffaloes at the Coors Events Center in Boulder, Colorado.
Podcast episode
Bill Self after 75-72 loss at Colorado
Colorado 75, Kansas 72
Boulder, Colo. — The ever-present battle within the battle that churns every time Kansas University's very talented and frighteningly inexperienced basketball team plays a game resulted in buzzer-beaters breaking ties at the end of both halves. The guy who made them, junior guard Askia Booker, plays for Colorado, so Kansas University lost to the Buffaloes, 75-72, in the Coors Event Center.
The battle within the battle that pits talent on one side, youth on the other, could result in many more close games than Kansas usually plays. It weighs in KU's favor in the long run, but not always in the short term.
The inexperience will decrease with every game, enabling the talent to take over for longer stretches. What you see now is not what you get in January, when conference play starts, or mid-March, when the NCAA tournament gets underway.
Two freshmen best illustrated the battle within the battle for a talented team that checks in at 348th out of 351 Div. I basketball schools in experience, according to kenpom.com.
In the first half, center Joel Embiid looked like the best player on the floor, posting up and using fancy footwork to free himself for a couple of left-handed hooks, a layup and a short lane jumper, all in heavy traffic, on his way to 10 first-half points. In the second half, he went scoreless, committed four of his five fouls and fell for fakes he won't bite on as often when more experienced.
Andrew Wiggins played just eight first-half minutes, thanks to two quick fouls, and without him KU had trouble scoring in any other way but feeding Embiid against the Colorado 2-3 zone. In the second half, with his team in desperate need of someone bringing the Jayhawks back, Wiggins answered the call and scored 17 of his game-high 22 points.
Embiid and Wiggins supplied the most obvious examples of freshmen, for various reasons, having a difficult time putting their positive imprints on games from the moment they step on the floor until the final buzzer sounds.
Point guard Frank Mason struggled to figure out Colorado's zone in the first half and attacked it more aggressively in the final 20 minutes, during which he scored 10 of his 11 points.
Starting shooting guard Wayne Selden scored five points in the opening 3:20, leading KU to a 12-7 advantage, and he scored two points the rest of the way. Wiggins picked up his second foul in the minute after Selden's three-pointer, and without him, Kansas became easier to defend.
"We weren't very good against the zone because we were nervous about getting in there and making a play," KU coach Bill Self said. "They were letting two guys guard four guys, so we didn't make them pay. Then it got late and we had to go make plays. That's how you should be attacking it the whole time."
A year ago at this time, sophomore Perry Ellis was the inexperienced one. Now, he and Naadir Tharpe are the players with the most exposure to how Self wants his team to go about scoring.
"We really haven't seen the ball moving," Ellis said of KU's struggles. "We just have to really work on getting the ball moving fast. Quit holding the ball. I feel like we'll get better at that."
When it didn't move well, Kansas settled for jumpers and made just five of 20 three-pointers. Kansas made 71 percent of its two-point field-goal attempts but took just 31 of them. Kansas has better shooters than the .298 three-point shooting percentage indicates. Better ball movement will result in more open looks, and the nice thing about those is that players don't have to worry about whether they should be shooting them. They'll fire them with confidence.
With every loss, there is a gain, and Wiggins surely gained knowledge of just how much he can influence a game when he drives against slower defenders who are fearing the whistle that comes much more frequently now than it did in the past.
"But it works both ways," Wiggins said.
It worked against him in the first half, for him in the second. He'll figure out how to make it work to his advantage more often than not.
Kansas will get better, but not in the way a meal gets hotter by sticking it in the microwave. It's going to be more of a slow, bumpy road with stops and starts, on the way to hotter performances.