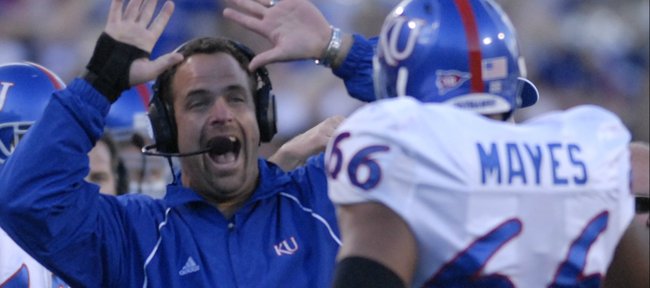 Rice football's John Reagan is Kansas University's new offensive-line coach and offensive coordinator, KU head coach Charlie Weis announced Saturday. The Journal-World first reported Reagan's hiring on Nov. 27.
Weis, in a press release, also gave KU linebackers coach Clint Bowen the title of defensive coordinator, a role Bowen performed in place of Dave Campo for much of the 2013 season.
Reagan worked as an assistant at KU under former Kansas coach Mark Mangino from 2005-09 and is coming off his third season as offensive coordinator at Rice, which won the Conference USA championship Saturday with a 41-24 victory over Marshall. He will replace Tim Grunhard, who stepped down as KU's O-line coach on Dec. 1.
"When Tim told me his thoughts, I started searching for a replacement with the hopes of finding someone with Kansas ties capable of coordinating an offense," Weis said in the press release. "My search brought me to John Reagan. John not only coached at KU, but his kids still reside in Lawrence. He has a great reputation as an offensive line coach, but also has received accolades for coordinating the offense at Rice.
"John immediately takes over for Tim and will hit the recruiting trail for offensive linemen. He will serve as both the offensive coordinator and the offensive line coach. I would like to welcome John Reagan back to the Jayhawk family."
According to a source, Reagan will be bringing his offense to Lawrence and will be free to run a similar style of offense that he ran both at Kansas, as an offensive- line coach, and at Rice as the offensive coordinator.
Bringing in Reagan to run the offense will free up Weis to focus entirely on running the program as head coach, from overseeing recruiting and managing assistants to instilling discipline and motivating players on the field and in the classroom.
Reagan's time in Houston has been wildly productive. In 2012, the Owls produced the second-most productive offensive season in school history, piling up 5,556 yards, 414 points and 306 first downs on their way to winning the last five games and capturing the Armed Forces Bowl Championship. The Owls also set a school record and led the nation by averaging 33:59 in time of possession.
Prior to Saturday's victory over Marshall, Rice (10-3) ranked 55th in the NCAA in total offense with more than 5,000 yards and nearly 400 points. That number included an average of 240 yards on the ground, good for 17th in the country. Rice averaged 31.4 points per game this season, more than double KU's average of 15.3 points per game.
Before joining the Jayhawks and Owls, Reagan, a Syracuse graduate, coached at Air Force and Temple. He has long been considered one of the up-and-coming offensive minds in football and his familiarity with the Big 12 and recruiting connections in Texas could provide a huge lift for a KU offense that has struggled during the past two seasons.
Players who benefited from Reagan's tutelage at KU include 2007 All-America lineman Anthony Collins, a finalist for the Outland Trophy and a fourth-round draft pick of the Cincinnati Bengals. In addition, former multi-year starters Jeff Spikes and Jeremiah Hatch earned freshman All-America honors in 2008 under Reagan and others earned All-Big 12 honors.
Bowen, a former KU safety who has worked on the staff of three head coaches at Kansas, functioned as the Jayhawks' DC during much of the 2013 season but never officially received the title from Campo.
Bowen will continue to coach KU's linebackers and both his role and Campo's role as KU's defensive backs coach will remain similar to what they were during 2013.
"I like the way the defensive staff transitioned this past season from Dave to Clint," Weis said. "Therefore, Clint will now assume the title of defensive coordinator with Dave continuing to oversee the defense as the assistant head coach."