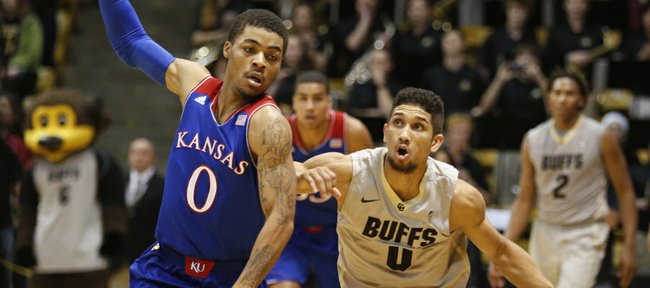 Photo Gallery
KU basketball v. Colorado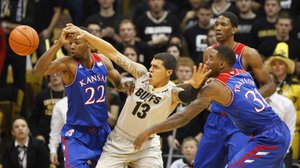 Images from Saturday's matchup between the Jayhawks and Buffaloes at the Coors Events Center in Boulder, Colorado.
Podcast episode
Bill Self after 75-72 loss at Colorado
Colorado 75, Kansas 72
Colorado junior guard Askia Booker burned visiting Kansas University with long buzzer shots not once but twice Saturday in leading the Buffaloes to a 75-72 victory in front of loud crowd of 11,113 Saturday in the Coors Event Center. Both three-pointers broke ties.
Booker had no trouble calling it the greatest finish in which he ever has participated.
"Without a doubt," he said. "Unless I'm in the NBA championship. That's the only thing that could top that."
Kansas made a nine-point run in the second half to tie the score, but the Buffaloes (9-1) were able to hold it together. Booker said CU assistant coach Rodney Billups stressed remaining poised.
"He said that they might make a run and that they would be aggressive and attack the basket," Booker said. "That's exactly what they did. Andrew Wiggins got to the line and then made some hard layups. At the end of the day, if we don't keep our poise, we don't win these games."
Colorado coach Tad Boyle, who has once-apathetic fans so excited about basketball that at least 90 percent of the tickets were in the hands of those backing the Buffaloes, liked everything about Booker's running 30-footer that won the game.
"As soon as he let it go, I knew it was money," Boyle said.
More than one player's clutch three-pointers won the game for Colorado. The 2-3 zone coach Tad Boyle had his players in for most of the game frustrated Kansas into taking 20 three-point shots, of which they made just five. KU shot .710 from inside the three-point semi-circle but attempted just 31 two-point field goals.
"We wanted to make them a jump-shooting team, whether we played them in man or zone," Boyle said. "With the zone, it's easier to keep the ball out of the post, and they're such good post feeders and such good post players."
Boyle usually prefers to play man-to-man, but with Kansas shooting poorly from the outside so far this season, it made his decision to go outside his comfort zone an easy one.
"I swallowed my pride when I went zone," Boyle said. "If they would have made some shots against it in the first half early, I probably would have gotten out of it, because I'm not committed to it. But they didn't. They struggled with it, and so we stayed with it."
Coors Event Center used to be known as Allen Fieldhouse West, but not this time.
After Booker's game-winner, CU students stormed the court.
"Last year against Arizona, I was mad the students rushed the court," Boyle said. "I was happy for them today because of what this win means to them and the support that they've given us."