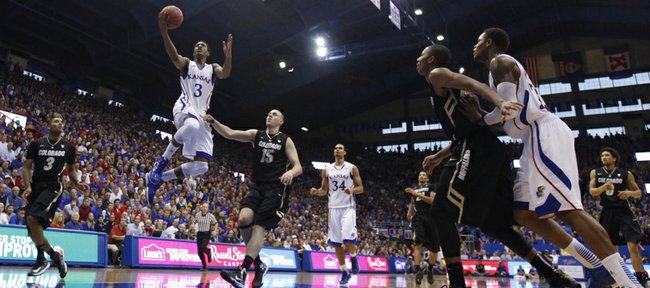 Boulder, Colo. — Tad Boyle shook a lot of hands while greeting a batch of well-wishers before and after last year's Colorado-Kansas University nonconference basketball game in Allen Fieldhouse.
"The KU fans were very gracious. Of course, it's easy to be gracious when you are drilling us by 30," cracked Boyle, a former KU basketball guard, who is now fourth-year coach of CU's Buffaloes. "They were very nice, even though the Jayhawks on the floor were not very nice to us," Boyle added.
Boyle — he played for Ted Owens and Larry Brown from 1981 to '85 — still winces when he thinks about his Buffaloes' 90-54 loss to the Jayhawks last Dec. 8, in the first game of a two-year home-and-home series between the Pac-12 and Big 12 schools.
In fact, he quickly mentioned last year's blowout when asked if CU junior standout Spencer Dinwiddie was looking forward to today's 2:15 p.m. KU-CU rematch in Coors Events Center.
"Spencer is a special player. He has a bad taste in his mouth from Allen Fieldhouse last year. He is not the only one. We all do," Boyle said of the 6-6 wing from Woodland Hills, Calif., who scored four points off 1-of-4 shooting in 21 minutes versus KU a year ago.
"Spencer is a competitive guy. He's a terrific player in his own right. I know he's chomping at the bit for this opportunity," Boyle added of the NBA prospect, who takes a team-leading, 15.3 points-per-game scoring average into the game between the Buffs (8-1) and Jayhawks (6-1).
Boyle, who is 0-4 versus his alma mater (CU has dropped 19 straight to KU overall and 46 of 47), naturally seeks a "better game" this season.
"We didn't put up much fight last year," Boyle said. "I think the players we have on the team this year understand what they are getting into a little bit now.
"It'll be fun," Boyle added, dismissing the notion the game will be extra emotional for him. "I love KU. I've got great memories there. KU fans are special people, obviously special to me because I spent four of my most formative years of my life there in Lawrence.
"On this day, there's no sentiment. I'm a Buff now. This is where I grew up (as high school standout in Greeley). This is where I work. It'd be the same if I was the coach anywhere playing KU. The fact I'm at Colorado ... another day at the office, but it's a big day at the office."
Boyle's fourth Buff team has NCAA Tournament aspirations, just like his past two squads, which reached the second round in 2012-13 and Sweet 16 in 11-12.
"My nose is to the grindstone. We are trying to hit new milestones every year. We are trying to do some things that have never been done here before. It's a long road. It's one that never ends until the day you hang your whistle up. I hope that's not for a while," said Boyle, 50. "I am proud of what we've done up to this point, but there is so much more to go. I want our fans to understand that, our players and our coaches; I certainly do."
This year's CU team boasts double-digit scorers in Josh Scott (6-10, sophomore, 12.2 ppg) and Askia Booker (6-2, junior, 11.4). The Buffs have won eight straight games since a 72-60 season-opening loss against Baylor in Dallas. The CU victims have been UT Martin, Wyoming, Jackson State, Arkansas State, Santa Barbara and Harvard at home, as well as Air Force and Colorado State on the road.
The Buffs, who start one freshman, two sophomores and two juniors, face an equally young team in the Jayhawks.
"They've got unbelievable talent," Boyle said. "I know they are still in process now, with a lot of new faces, a lot of new roles.
"You can tell they are not in midseason form yet. I'm sure this week in practice (after 2-1 performance in Bahamas) they've made great strides. I mean KU is KU," Boyle added. "You look at Bill's (Self) record, what he's done with every team he's had. They graduate a bunch of guys ... what'd they have to replace, five starters? And here they are in the top 10 again. I tell him darn near every time I see him, that as a former player I am really proud of what he's done with the program and taken it to new heights."
Self is a big fan of Boyle.
"I've said this many times. Tad and I were recruited the same year, and I knew I had no chance to go to Kansas when I was coming out of high school because they had already recruited one real slow white guard, so Tad looked forward to playing Oklahoma State because he could guard me and I looked forward to playing Kansas because I could guard him," Self joked.
"But I think Tad has a calming presence. I do. I think he's done a great job, and he doesn't get rattled, and I think his players respond to that."
Of the Buffs, Self said: "Coach Townsend (Kurtis, KU assistant) said it would be the best transition offensive team we play all year as far as getting the ball up the floor quick. We're familiar with them, and I'm sure they are with us. But they've got a nice team. They've won eight in a row. They should be confident. They've won away from home, and it'll be a tough game, very tough. But fun."
Mason under the weather?: KU freshman point guard Frank Mason, who Bill Self has said will make his second start of the season today, might be ailing. "Nose stuffy and burning and I keep coughing," Mason wrote on Twitter after arriving in Colorado on Friday afternoon.
This, that: KU is 123-39 all-time against Colorado, including a 25-7 mark in Coors Events Center. KU has won 19 in a row and 46 of the past 47 versus the Buffs. In the Bill Self-era, KU is a perfect 18-0.
More on crowd: CU coach Boyle spoke to CUbuffs.com on how many KU fans he expects to see in Coors Events Center: "We'll see. (It is) the litmus test that I think our fans are either going to pass or fail . . . we won't know that until Saturday when we see the colors in here and see how many Kansas fans actually are here. They're crafty people. They've had to find alternative ways of getting in buildings and getting tickets.
"Our fans have not really ever been in a position where these tickets are in such high demand. So do they hold on to them . . . or if they can't make it, make sure their neighbors or family or business associates (use their tickets)? If CU fans are giving or selling their tickets to KU fans I'll be very disappointed. So we'll see." Of the importance of the game, he added to CUbuffs.com: "If these guys (Buffs) can't get ready for this game, they're in the wrong program. It's something you don't have to worry about."
He spoke to the Journal-World about the matter earlier in the week.