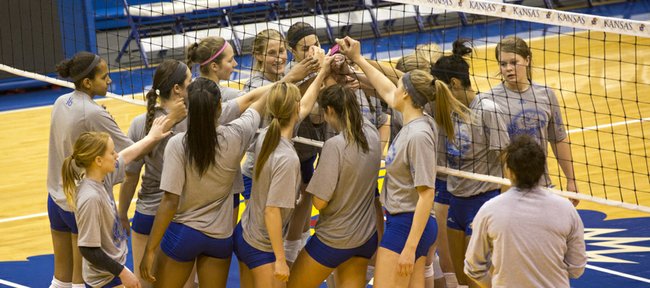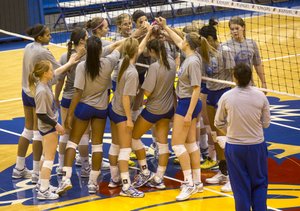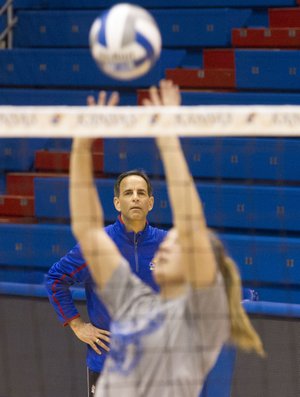 Same place, same time of year, same opponent, more seniors, which translates to an even greater sense of urgency for Kansas University's volleyball team.
Bounced in the second round of the 2012 NCAA Tournament by Wichita State in Allen Fieldhouse, the Jayhawks have their chance at revenge in the same building today in the first round of the NCAA Tourney. First serve is scheduled for 6:30 p.m.
Creighton meets Arkansas in the other first-round match, scheduled for a 4 p.m. start. Winners of today's matches will meet in the second round Saturday in the fieldhouse for a 6:30 first serve, with the winner advancing to the Los Angeles regional.
Kansas has seven seniors on the roster, five of them starters.
"I remember coach B (Ray Bechard) telling me as a freshman it goes by fast, and you kind of just nod your head because you feel like you have a million more practices left," senior libero Brianne Riley said. "Now as a senior, it hits home harder. We'd come to practice and realize it's dwindling down."
During Big 12 matches, the seniors took nothing for granted, Riley said.
"Every game we played this year, there are so many seniors on the court, it sounds kind of lame, but you could almost see it in each other's eyes that we want to win this game for each other because it's the last time we're playing Texas or the last time we're playing OU at their place or at our place," Riley said. "You could see the sense of urgency."
Senior urgency intensifies in the postseason tournament, which represents "the last time you get to play with each other in your Kansas jersey and be able to represent your school, which is the coolest thing we've all been able to do," Riley said.
Wichita State (28-6) is making its eighth NCAA Tourney appearance and seventh in a row. Kansas (23-7, No. 14 national seed) is making its fifth NCAA tourney appearance and was chosen as host school for the second year in a row.
Before last season, KU last had earned a bid in the tournament in 2005.
"It's no longer our first look at it," senior middle blocker Caroline Jarmoc said. "When we did it last year, everything was unfamiliar. We didn't know what protocol to follow. The NCAA is very particular about timing, like practice timing and everything, and that can end up distracting you. So I think we're all more familiar, and we definitely passed on the memories to the freshmen so that the team is more prepared and able to focus."
Bechard made a case for the Lawrence pod having the most depth of any in the nation, citing the strong RPI numbers of all four schools.
The three visiting schools have at least one thing in common: Each defeated KU in its most recent match against the Jayhawks.
KU defeated Arkansas in five sets Sept. 5 in Fayetteville, Ark., and lost to the Razorbacks in five sets two days later in Lawrence. Creighton defeated Kansas in four sets Sept. 10 in Omaha.