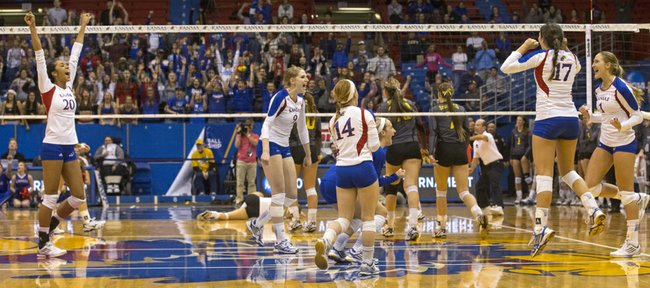 It's not as if any volleyball team competing in the NCAA Tournament needs extra motivation to win. Chasing championship dreams and keeping the season alive are as good as inspirations get.
But the Kansas Jayhawks had a deeper, more personal purpose to win their first-round game Friday night in front of 4,017 fans at Allen Fieldhouse. In their minds, 2012 was supposed to be the season that culminated with the program's first trip to the Sweet 16. That was before Wichita State beat KU on its home floor in the second round of the tourney a year ago.
Still in search of that trip past the second round for 16th-year coach Ray Bechard, his players ousted the same WSU program that canceled their plans last December, with a 3-1 victory.
"We tried to be as competitive as possible," KU junior Chelsea Albers said. "There's a little bit of a vendetta since last year, so we had all the motivation this year to not only win, but go out as hard as we could. We wanted to compete at our highest level so we don't just make it through the first round but we push ourselves so we get ready for the second (round) and possibly further."
Albers, a 6-foot-1 outside hitter from Papillion, Neb., led the Jayhawks (24-7) with 17 kills, edging senior Caroline Jarmoc's 16. Even more impressive, though, her coach pointed out, was the timeliness of Albers' destructive swings.
"Seventeen kills, and a lot of key kills," Bechard said. "The thing about Chelsea, she is probably gonna make something good happen, one way or another, because she's gonna be aggressive. That was exciting to see."
Her final kill sealed the fourth set, 25-22, and the match against the Shockers (28-7). Earlier, she delivered out of KU timeouts and late in every set, including the first-set winner.
After Kansas led 8-2 early in the first set, the Shockers survived the wave of home-court advantage and eventually led 21-19. But Jarmoc, Sara McClinton and Albers responded with critical points that might have saved KU from falling off the deep end with a first-set loss.
Bechard said human nature led to his team's fiery approach in the rematch with the Shockers.
"Everybody here in this pod (Creighton and Arkansas) had beaten us the last time we played," the KU coach noted. "But obviously when you end the year on kind of a heartbreaking note, you remember that. You remember the team you played, but you remember the feeling more than anything, and you just don't want to feel that way again."
Kansas senior setter Erin McNorton (54 assists) admitted some satisfaction in beating WSU, which only won the third set this time around, but the Jayhawks certainly weren't holding any grudges against the opposing players or coaches for doing something they couldn't in the 2012 tournament.
"Last year, it didn't matter who beat us. We feel like we could've gone further," McNorton said, "and so this year I think we had the same opportunity and we're just kind of paving the way for that."
The next step toward that elusive Sweet 16 berth comes tonight against another familiar opponent, Creighton, which beat Arkansas Friday night. The Jayhawks fell in four sets at Creighton on Sept. 10 this season.
Jarmoc labeled that loss a "learning opportunity," and KU responded by winning 10 of its next 11 matches.
"They've come a long way as a team," the senior middle blocker said of the Bluejays (23-8), "and so have we."
And now the Jayhawks find themselves in the same position they were Friday night: at home, against a team that beat them the last time around. Albers expects KU should know how to handle that scenario.
"We're gonna go out there and give our effort, the highest effort we can," she said, "and I think we should see positive effects from that."