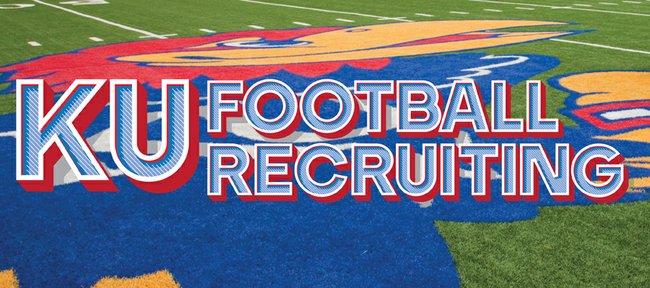 When Class of 2014 center Jacob Bragg first heard that Kansas University offensive line coach Tim Grunhard was leaving, it took a second for him to process what had happened.
"Coach Grunhard was a big part of the reason I committed to Kansas," Bragg said during a recent interview with the Journal-World. "I understand why he left and don't hold any grudge."
Although the news changed the look of Bragg's future, it did nothing to change the relationship between the two centers. Grunhard, who stepped down after two seasons at KU in order to spend more time with his family, reached out to Bragg the night his resignation became public, and it was that gesture along with a Monday visit from KU head coach Charlie Weis that encouraged the eighth-rated center in the country to stick with his commitment to Kansas.
"KU's been loyal to me, and I'm going to show them the respect they deserve," Bragg said.
Grunhard helped the Nacogdoches (Texas) High prospect see that his departure did not change any of the good things KU has to offer.
"I talked to him the night that it was announced," the 6-foot-4, 308-pound Bragg said of Grunhard. "He said that Kansas needs me for the position and that Kansas is the place for me. Everything's still good and that he'll be coming to the games and giving me little tips here and there. He won't be my coach, but he'll help me if I need it. It's comforting. It didn't really surprise me that he'd say that. It fits him. He's a nice guy, a caring coach."
The visit from Weis helped reinforce to Bragg that picking Kansas made him part of a football family, and that, too, was comforting.
"It just shows me that he cares about me, and he wants me," Bragg said of Weis and the visit. "I love the fact that he came down and saw me. It shows me that he's committed to me."
As is typical with any change of this magnitude, several other coaches and programs contacted Bragg following the news about Grunhard to see if they could persuade him to change his mind. Although Bragg said that part of the recruiting process was frustrating, he was not surprised.
"I've been dealing with that since I committed," he said. "It never really stopped. You just have to control yourself. I'm (committed to) KU so I'm not really worried about it. As of right now, I'm just going to stay quiet, not make any big decisions and meet the new O-line coach, and if I like him I'll stay."
Bragg, who was selected to play in the Jan. 2 Under Armor all-star game, will make his official visit to Lawrence next weekend.
More like this story on KUsports.com