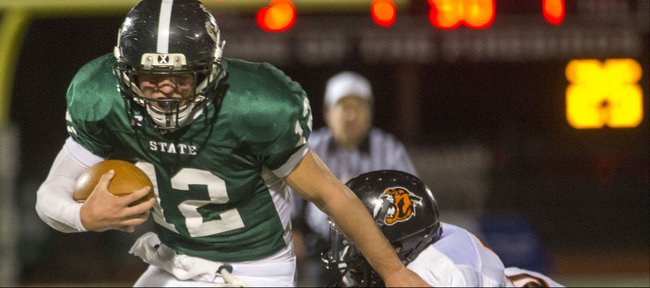 Joe Dineen had his phone on during his fourth-hour class Thursday at Free State High when a buddy sent him a surprising text message.
"Congrats," it said.
"For what?" Dineen replied.
It turned out his pal, Brett Van Blaricum, had seen the news online before it got to Dineen. The Gatorade Company, in collaboration with USA TODAY High School Sports, named Dineen the 2013-14 Gatorade Kansas Football Player of the Year.
"At first, I didn't believe it," said Dineen, a Free State senior. "Maybe they're just showing the nominations or something."
So he texted his mom, Jodi, for confirmation. In the meantime, he had to try to put the award in the back of his mind so he could take a government test. When he finished, he found out his friend wasn't kidding.
"It's a tremendous honor," Dineen said, "and there was a ton of people in the state that were worthy of it. I just couldn't believe it."
The Firebirds quarterback and free safety is the first FSHS football player to earn the award, which distinguishes him as the state's top player and, according to a press release, recognizes him not only for outstanding athletic excellence, but also high standards of academic achievement and exemplary character demonstrated on and off the field.
The 6-foot-2, 195-pound senior passed for 1,702 yards and 20 touchdowns, completing 118 of his 222 attempts, and helped guide the Firebirds (9-2) to the Class 6A state quarterfinals this past fall. Dineen also rushed for 798 yards and 12 touchdowns on 136 carries. The Sunflower League's Andre Maloney Award recipient, Dineen recorded 73 total tackles, five for a loss, recovered two fumbles and collected one interception on defense.
Committed to play for his hometown college football program at Kansas University, Dineen is now a finalist for the Gatorade National Football Player of the Year award, which will be announced later this month. Past state award-winners, include Mark Sanchez (2004-05, Mission Viejo HS, Calif.), Wes Welker (1999-00, Heritage Hall HS, Okla.), Terrell Suggs (1999- 00, Hamilton HS, Ariz.), Anquan Boldin (1998-99, Pahokee HS, Fla.) and Jerome Bettis (1989-90, Mackenzie HS, Mich.).
Dineen is the second Free State athlete to win the Gatorade award in 2013, joining fellow senior Alexa Harmon-Thomas, whose track prowess nabbed her the honor this past spring.
More like this story on KUsports.com