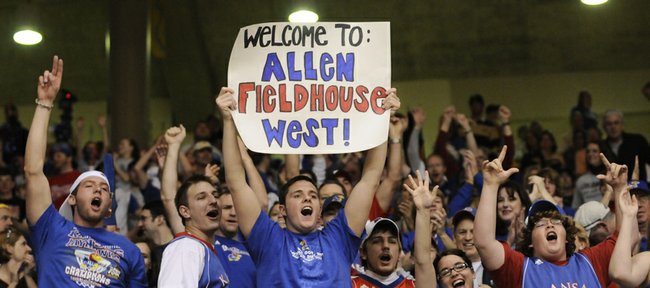 Coors Events Center, the home of the Colorado Buffaloes, used to be known as "Allen Fieldhouse West" when the Jayhawks and their legion of loyal fans descended upon Boulder for KU-CU men's basketball games contested in the Big 12 and Big Eight conferences.
KU backers routinely occupied at least half of the 11,064-seat arena, helping the Jayhawks win the last eight games and 19 of the past 20 in Boulder dating from 2011 back to 1991.
On Saturday, the Jayhawks visit CU once again for a 2:15 p.m., Central time, battle. This time, however, the third-year Pac-12 Conference school is expected to have a vast majority of fans on hand rooting for the home team.
Wednesday in a phone conversation with the Journal-World, CU coach Tad Boyle was asked if the crowd would be mostly Buffaloes' fans.
"I think so," he said. "We'll wait and see on Saturday afternoon. Those Jayhawk fans are pretty crafty when it comes to getting tickets and finding seats. We'll see how much blue is in there. There's no question in my mind it'll be less (blue) than years past, but something tells me that the true Jayhawk fans will find their way in there, somehow, some way. I'm just hoping they are not getting their tickets from Buffalo fans, but we'll see."
He challenged Buff fans to keep out the Jayhawks when the contract for the current home-and-home series was signed. KU won last year's initial meeting, 90-54, in Lawrence.
"I know one of the reasons Bill (Self, KU coach) wanted to do this series was he wanted the (KU) alumni in Colorado to be able to see the Jayhawks play. Of course, selfishly from my standpoint I want those alumni to not be able to get tickets, unless they are going to buy season tickets to the Buffs and support us when we are not playing the Jayhawks," Boyle said.
"That's the great thing about us not being in the Big 12 any more. Hopefully we can get some crossover fans that are Jayhawk fans that are starved for college basketball and can't get to Lawrence as often as they want, but can drive from Denver to Boulder to see a good team and a good game."
Boyle, who played at KU from 1981 to '85, is a big reason the Buffs (8-1) have sold all their available season tickets for the first time in school history.
In his fourth year, the 50-year-old former KU guard led the Buffs to back-to-back NCAA Tournaments after a spot in the postseason NIT semifinals in 2010-11.
"It's a very exciting time. The level of excitement and interest in the men's basketball program has never been higher," said Matt Biggers, CU's associate AD/external affairs/chief marketing officer.
He explained that the athletic department sold 7,160 season tickets as well as the CU student allotment of 2,300.
"Kansas had 250 tickets we had to provide for them (contractually) to sell to their fans," Biggers said. "Anywhere between 500 to less than 1,000 could be available per game outside of season tickets and other internal needs.
"With the single-game tickets we had available for this game ... we made them available to our season-ticket holders first, and they bought them all up. It's such a big game for us. It'll look very different (in arena) than it has in the past for sure."
Biggers was asked if KU fans may have purchased a significant number of season tickets, just to be assured admittance to the KU-CU game.
"I guess that is possible. There's no way for us to know that," Biggers said. "I'm sure there are Kansas fans that live in Colorado. Maybe they are CU fans most of the year, and they went to KU, and this is the one game they are KU fans. I'm sure that could happen as well. And there is always the chance to buy tickets on the secondary market.
"I think the majority are CU fans because they are coming to our games on an every-game basis. We are seeing them (fill Coors Center). Our game against Harvard was jam-packed.
"I wasn't here in the past, but I've heard Kansas made a pretty good presence, whether it was 50 percent (as J-W suggested to him) or not. I know they were loud, and I think compared to that, it will be very much a 90 percent CU crowd."
One thing is for sure: The CU fans in attendance will be fired up in trying to even the score from some lopsided results during the Buffs' days in the Big 12.
"Coach Boyle is a huge part, the players are a huge part (of CU mania)," Biggers said. "Tad is hugely popular ... the recruiting and coaching, the job he's done representing this program so well.
"For the last two years, our student section, called the C-Unit, has been extremely supportive and one of the best student sections in the country. They've shown up in force."
New recruiting name: KU is expected to visit Rashard Figures, a 6-foot-3 senior shooting guard from Mack Prep High in Charlotte, N.C., according to Rivals.com. He is an unranked player at this time.
More like this story on KUsports.com