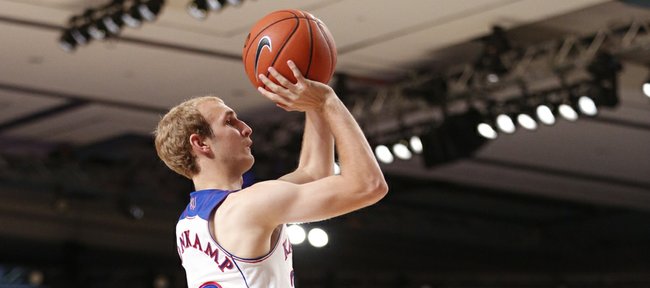 Maybe it was the low ceiling or dim lighting in 3,900-seat Imperial Arena — the ballroom and convention center of the Atlantis resort — affecting the equilibrium of Kansas University's basketball players.
— Or the Nike basketballs, which the Jayhawks say have a different feel than the adidas brand they normally use.
— Or the rims.
— Or the players simply not shooting straight.
Whatever the reason(s) ... "we couldn't throw it in the ocean, and we were really close to the ocean," KU coach Bill Self cracked Monday on his Hawk Talk radio show.
The Jayhawks hit just 10 of 45 threes en route to beating Wake Forest and UTEP and losing to Villanova at the recent Battle 4 Atlantis Tournament in Paradise Island, Bahamas.
"As bad as people want to say it puts so much pressure on you when you can't make shots and I would agree ... (but) I think we are more deficient in other areas," Self said.
"Our ballhandling, passing, going for loose balls, ability to guard the ball isn't where it needs to be. We could use perimeter shooting, no question about that. We also are not a real tough team yet and not a great loose ball team.
"As poorly as we played against Villanova (in 63-59 semifinal loss in which the Wildcats hit nine threes to KU's two), we get one stop and we win against a team that played lights out," Self added. "We lost to the 14th-ranked team in the country on an awful day where we had a one-point lead, playing as poorly as we can play and don't get a stop (on late Nova three)."
Self, who stressed that "Villanova deserved to win," was asked by a fan on his radio show if he thought about giving significant minutes to one of the bench players known for three-point shooting — Andrew White III, Conner Frankamp or Brannen Greene. White was 0-for-5 from three; Frankamp and Greene each 0-for-1 in the Bahamas. Frank Mason was the only non-starter to hit a three, knocking down two in 11 tries to go with Naadir Tharpe's four and two apiece from Wayne Selden and Andrew Wiggins.
"We thought about that a lot. No question our four best perimeter players have been Frank, Naadir, Andrew (Wiggins) and Wayne. They've been the four best since start of practice for the most part. Others have had good days and things like that," Self said.
"In a perfect world, we'd play one of the other three (White, Frankamp, Greene). Whoever it is, it could change game to game, week to week, month to month (depending on) who is playing best.
"You can make a case, 'he (Self) should play him or he should play him,' but nobody has separated himself. One guy who has more than anybody is Frank and he is trying to figure anything out, it's so new to him. We need to play five perimeter players. We need to go to one (of three candidates). I don't know exactly who that is yet. We'll have to see how it plays out."
Self, who realizes shooting can be on one night and off the next, is more concerned about other areas.
"(Against Villanova) there were 32 loose balls, they got 22 of them — the 50/50 balls," Self said. The thing we take most pride in, they kicked our butt. In the last game," he added of a 67-63 win over UTEP, "think about it ... we go to bed at 3 a.m. after a heartbreaking loss. We eat postgame meal at 2 (a.m.). We've got to get up and regroup. It's a little deflating. Our energy level was not good against them (Miners). If we make any shots at all, we're up 20. The last four minutes (in which KU saw 14-point lead dip to three) were a total debacle. We were able to learn some things from that game without absorbing a loss."
KU left the Bahamas with a 6-1 overall record.
"We weren't going to run the table," Self said of going undefeated in 2013-14. "If anybody thought we were going to go undefeated they really were drinking blue and red Kool-Aid," he joked. "No team has done it in 40 years and these freshmen are going to do it?
"It's OK to lose unless it's the end of the season. Of course you can't let one become two and things like that. If we get better from it, it'll be a positive thing for us."
KU will next meet Colorado at 2:15 p.m., Central time, Saturday, at Coors Events Center in Boulder.
Alexander to miss game: KU signee Cliff Alexander, a 6-8 senior from Chicago's Curie High, will serve a one-game suspension for being ejected from last Sunday's game against St. Rita, the Chicago Tribune reports.
He'll miss Saturday's game at University of Illinois-Chicago against Las Vegas Gorman High and 7-footer Steven Zimmerman. The Trib reports that Alexander and St. Rita's Vic Law "both received technicals for taunting during Curie's 79-76 overtime victory, and Alexander received a second technical and automatic ejection for hanging on the rim."
A player ejected from a game cannot participate in the team's next game according to Illinois High School Association rules.
Ellis honored: KU sophomore forward Perry Ellis was named a nominee to the Allstate NABC and WBCA Good Works Teams, the National Association of Basketball Coaches (NABC) announced Tuesday.
The award, presented by the NABC and the Women's Basketball Coaches Association (WBCA), recognizes 201 nominees at all levels of college basketball. It honors college basketball players, "who represent the sport's finest in the areas of leadership and charitable achievements amongst their peers. The student-athletes nominated for this honor embody the true spirit of teamwork and giving back."
From the 117 NABC men's nominees and 84 WBCA women's nominees submitted by sports information directors, voting panels will select two 10-member teams of five student-athletes from the NCAA Div. I level and five from Divisions II, III and the NAIA. The final roster of 20-award recipients will be unveiled in February.
More like this story on KUsports.com