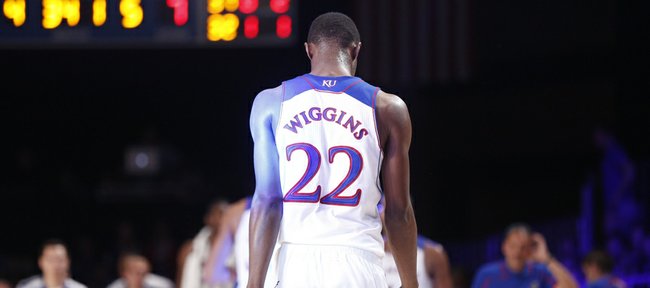 Andrew Wiggins played one lousy basketball game in the Bahamas. During the three-game Battle 4 Atlantis, he was no better than Kansas University's third-best freshman, ranking behind Joel Embiid and Frank Mason. I have two words to say about that: So what?
It's not as if he's the first talented basketball player to experience bouts of inconsistency during the first post-high school November of his career.
The tougher the coach, the more shocking the transition to college basketball. Bill Self is no softy. Many watching the tourney on TV noticed Self appeared to mouth the word "soft" to Wiggins at one point.
Wiggins joins a long list of Self players, past and present, to hear that label sent their way. They grow tired of hearing it, realize the coach isn't going to dumb down his standards for anyone, stop fighting him and do it his way more consistently as the season progresses. They tend to like the result of everyone doing the things that keep words such as "soft" and the gentler euphemism "casual" from flying off Self's tongue.
Nobody is exempt from getting blasted for shying from contact when crashing the boards or chasing loose balls, putting style ahead of substance when on the way to dunks, not running hard in transition in both directions every single time, things like that. For most players coming out of high school, those things aren't second-nature until bad habits have been cleansed through daily feedback behind the closed doors of practices and the fishbowl of games.
Everything Wiggins does, the good and not-so-good, is magnified because of his inflated fame and thanks to talent outbursts so loud they feed the hunger to see more, more, more! Now and forever, for crying out loud!
Rare is the athlete who blends so much length and quickness as Wiggins. Consequently, about 70 percent of what Self likes to call "50/50 balls" should be possessed by Wiggins if he goes after them with the same fervor as an average small forward.
All of that makes Wiggins the perfect candidate to take advantage of Self's coaching style, which includes a variety of ways that challenge each player to prove his mettle.
It will come as a shock if Wiggins doesn't improve a great deal over the course of the next few months, an exciting proposition considering the extent to which he already has made positive contributions.
He hasn't shot well yet (.493 overall, .333 from three), another common first-November occurrence, yet he's still averaging 14.3 points, second on the team to Perry Ellis. He ranks third in rebounding (5.6), behind Joel Embiid and Ellis, first in steals and has the best plus-minus number on the team with a plus-14.8. Most of the 72 minutes Wiggins has sat have not come at garbage time. Without Wiggins on the floor, KU actually has been outscored, 138-132.
As for whether he deserved the No. 1 ranking he received from Rivals.com, those rankings no longer project what player will be the best freshman. They basically skip the one year the top prospects play in college and already look to them as NBA prospects.
So far, Kentucky's Julius Randle and Duke's Jabari Parker have been the best freshmen in the country.

The best guess as to the No. 1 pick in the NBA draft? Embiid. Why not take him first?
It's way premature to label Wiggins a disappointment.
One month into his one-year college career, he remains what he was in high school, an outstanding prospect. Watching him turn into an outstanding basketball player over the next few months will make for fascinating viewing.
More like this story on KUsports.com