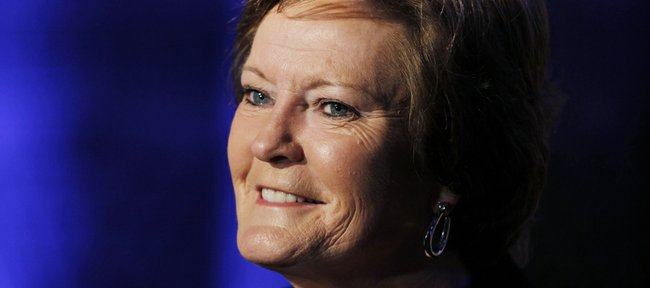 None of the players on the Kansas University women's basketball roster were recruited to Tennessee by legendary Volunteers coach Pat Summitt, but at 7 tonight, when the Jayhawks host Arkansas at Allen Fieldhouse, they'll all be playing for her.
Both teams will participate in a nationwide movement known as "We Back Pat," in which a majority of the pregame and portions of the game itself will be devoted to raising awareness for Alzheimer's disease, which Summitt has been battling for the past few years.
KU and Arkansas both will wear orange warm-up shirts and pins that boast the "We Back Pat" slogan in support of the Pat Summitt Foundation, and KU coach Bonnie Henrickson has recorded a public service announcement that stresses the importance of early detection of Alzheimer's disease.
In addition to getting back onto the court after suffering back-to-back losses to Xavier and Duke last weekend in the Virgin Islands, the Jayhawks (4-3) are looking forward to the special evening.
"She's one of the greatest to ever coach, so it's an honor to be able to play for her," junior guard Natalie Knight said of Summitt. "Our heart goes out to her and anybody who's ever played for her. We're really happy and really excited to be able to do that."
For Henrickson, the opportunity to honor Summitt is one that's near and dear to her heart. In 1988, when Henrickson was a graduate assistant at Western Illinois, she received what she remembered as the opportunity of a lifetime.
"I always say my claim to fame was she let me work her camp as a GA," Henrickson said.
As the years went on, the two coaches got to know each other better and Henrickson's respect and admiration for Summitt soared with each encounter.
"She's been very good to me," Henrickson said. "I've saved every note she's ever written to me. She's that kind of person. She sees you on the road or at a big game or after a win and she'll take the time to drop you a note, which, I don't know how she has the time.
"I've certainly been impressed by her success, but I was always more impressed by how it never defined who she was as a person. No ego and arrogance there."
There is, of course, a game associated with the Jayhawks' We Back Pat night, and it figures to be as tough as any Kansas has encountered this season. Arkansas comes in at 8-0 and is averaging 76 points per game while holding opponents to just 41.
Henrickson said her team needs to show more consistency in all aspects than it has thus far if it hopes to hang with the Razorbacks. And senior CeCe Harper said the Jayhawks' six-game homestand, which starts tonight and runs through the Big 12 Conference opener against West Virginia on Jan. 2, would be critical.
"This is a big run that could give us momentum heading into Big 12 play," Harper said. "This is where we figure out who we are as a team."