Wednesday, December 4, 2013
Document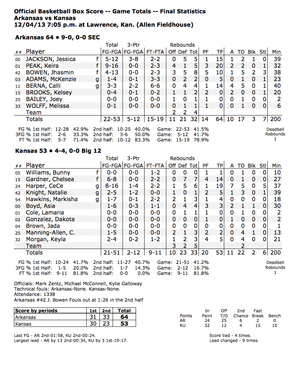 The Kansas University women's basketball team fell to .500 on the season Wednesday night at Allen Fieldhouse thanks to a 64-53 loss to Arkansas, which improved to 9-0.
The Razorbacks forced the Jayhawks (4-4) to work for everything they got early and built a lead of as many as seven points in the first half (21-14) before taking a 31-30 lead into the break.
KU closed the first half on a 9-5 run and even took a brief 30-29 lead with 16 seconds to play.
In the second half, the Jayhawks and Razorbacks traded buckets and leads for the first six minutes of the final frame before Arkansas separated itself with a 12-2 run that turned a 39-38 advantage for Kansas into a 50-41 lead for the Razorbacks with 8:15 to play.
The Jayhawks crawled within three with 2:00 to play but could never draw closer.
Senior guard CeCe Harper led KU with 19 points, and junior forward Chelsea Gardner added 14. Arkansas senior Keira Peak led all scorers with 20 points.
=KU will play host to Texas Southern at 2 p.m. Sunday.