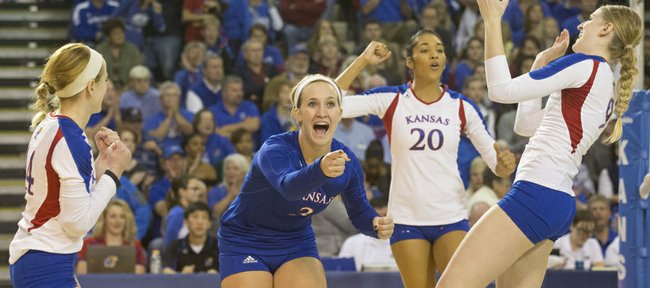 Dream crush.
Those two words have been the unofficial slogan for the encore version of the most successful team in Kansas University volleyball history. The 23-7 Jayhawks, led by seven seniors, have taken the court each night this season trying to crush their opponents' dreams, but now, after earning the right to host first- and second-round NCAA Tournament matches Friday and Saturday at Allen Fieldhouse for the second year in a row, the realization of their own dreams seems closer than ever.
Senior libero Bri Riley, a 5-foot-6 fireball from Naperville, Ill., who shattered the KU digs record and is fast approaching sixth place on the all-time Big 12 list, remembers the beginning of this team's journey like it was yesterday.
It was her sophomore season, and KU coach Ray Bechard had a message to deliver.
"We lost so many awful games that year," Riley recalled. "And I just remember coming to practice one day, and Coach B told us, 'Hey, we got an RPI of 156,' and we were all like, 'Yeah, that's so awesome!' We were celebrating it. It's so much different now. Back then we celebrated being in the hundreds, and now we're not happy even with being in the teens."
KU, which finished second behind Texas in the Big 12 standings, closed the season with an RPI ranking of 13 and will play host to Wichita State — the team that ended Kansas' season in 2012 — at 6:30 p.m. Friday in Allen Fieldhouse.
Getting to this point always was the goal. But there were plenty of ups and downs along the way that made for a wild ride.
It began with a couple of early losses, including an upset at the hands of Central Arkansas in the season opener.
"I'll be honest," Riley said. "We kind of came into this year thinking we were a pretty big deal, and we had those (early losses), and it was like, 'Holy cow.' I'll never forget one of the younger girls came in after those and said, 'Guys, we gotta get out of this funk,' and I was like, 'Whoa, whoa, whoa, it's only the first week, we're not in a funk, we just have to figure out how to play together and bring our heads down a little.'"
Eventually they did, but the team limped out of the gate with a 4-3 record and suffered losses to Arkansas, Creighton and Texas along the way.
A midseason victory at Wisconsin seemed to get the whole thing turned around. KU trailed two sets to none in Madison, Wis., and was on the brink of falling to .500 but rallied to top the Badgers in five sets. That was the second victory in a string of 10 consecutive wins, and with each one the team felt its mojo returning.
"It was kind of like, 'Wow, we're still here from last year,'" senior setter Erin McNorton said of the win over Wisconsin. "At the beginning of the year, I think we felt a lot of pressure for last year to carry over, and then we just kind of let it go and started playing more carefree and got on a roll."
Added Riley: "Those were the best losses. They were like wins for us."
Although the 10-match winning streak tied for the third longest in school history, it did not mark the beginning of smooth sailing entirely. In late October, the Jayhawks dropped a home match to rival Iowa State and walked out of the gym feeling like they let one get away. A couple of weeks later, in Ames, Iowa, KU avenged the loss by winning at ISU for the first time since 2004. And that victory paved the way for KU to finish alone in second place in the Big 12 for the first time in school history. It also served as proof that it would take a lot more than a home loss to the Cyclones to break down this year's Jayhawks.
"Last year, we were definitely on a high, and everything was new — winning and all that," senior middle hitter Caroline Jarmoc said. "And this year is just a different mindset. Sometimes when you get on those streaks, you kind of expect to win, and I think that a loss can be a really good reality check."
The Jayhawks closed the season by winning four of five matches and had a solid enough résumé to impress the selection committee despite losing at Oklahoma in the season finale. KU played 14 matches against 10 NCAA Tournament teams and went 7-7. The team's stats are as impressive as the path they took to reach this point. KU ranks in the top-25 in the NCAA in kills (14.48, 13th), assists (13.56, 14th) and hitting percentage (.263, 24th). And the team's 2.65 blocks per set rank as the 38th-best mark in the country.
Although many of the Jayhawks remember just about every kill, set and momentum swing from the past three months, the whole idea that they are the women responsible for changing the culture of Kansas volleyball is still a little overwhelming.
"I was in the car with Erin the other day, and I was like, 'This is gonna sound weird, but, Erin, it's just us. We're good,'" Riley said. "'It's so crazy that our team, all the goofy personalities that have come together, is ranked so highly in the nation. Little you and I driving in the car right now, that's us. We did that.'"
Now, they're looking for more. And the final chapter in their magnificent journey begins Friday, right where they expected it would.
More like this story on KUsports.com