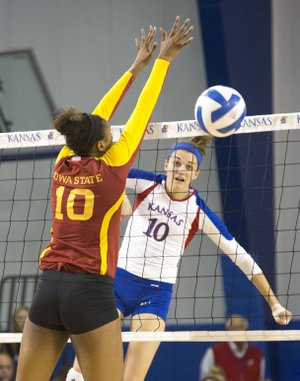 Nearly everybody returned from last year's Kansas University volleyball team that was so good the school served as NCAA Tournament host for the opening rounds. Consequently, the Jayhawks entered the season with their confidence riding high.
Still, one question hung in the air like a 50-50 ball above the net: How were they going to replace the long, lean star middle blocker, first name Tayler, who came to KU from an area high school? It didn't take long to find an answer. They replaced her with a long, lean, star middle blocker, first name Tayler, who came to KU from an area high school.
Tayler Tolefree from Lawrence High graduated from KU and true freshman Tayler Soucie, from Osawatomie High, ensured a seamless transition. And the Jayhawks are the host school Friday and Saturday in Allen Fieldhouse in the opening rounds of the NCAA Tournament.
Soucie played so well she was named to the Big 12's All-Freshman team.
"I thought it would be kind of a cool to replace a Tayler with a Tayler," Soucie said. "I look up to Tayler Tolefree a lot, so trying to be anything like her is amazing for me. She's very religious and very calm and very humble."
And she was a very talented volleyball player and a great student. So is Soucie, a 4.0 student in high school.
As for the less common spelling she shares with her predecessor, Soucie said her mother told her she found it in "the baby book."
"She said 'O-R' is for boys, and 'E-R' is for girls," Soucie said. "That's what she said. I like it. It's different. Except it's the same as Tayler Tolefree."
Soucie was 4A state champion in both hurdle events, the 300-meter and 100-meter, and placed second in the triple jump. Her brother Brendan, a senior, is an 800-meter man on KU's track and field team.
Tayler arrived at KU on the slender side and she said coach Ray Bechard has urged her to pack on some muscle. Soucie shared with pride that she already has put on 10 pounds.
"During high school I didn't lift a lot," Soucie said. "I tried to bulk up a little bit, but it didn't really do that much, especially running track, I lost a lot of it just running."
Even without much bulk, Soucie is an extremely explosive hitter, and like most players in KU's volleyball program, she figures to stay on a steady improvement curve.
It's impressive what has been going on with KU volleyball the past couple of years, and it would be nice to see big crowds turn out for the matches. Volleyball's an exciting sport to watch live. So many athletic plays keep the energy level high on the court and in the stands. And volleyball players genuinely appreciate the support. If you're heading to the matches and leave from Osawatomie, leave early because half the town just might burn a trail to Allen Fieldhouse to support one of its own.