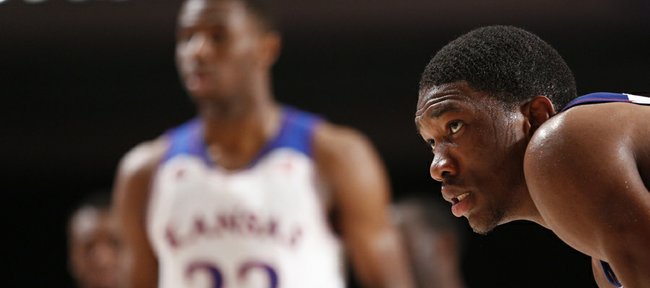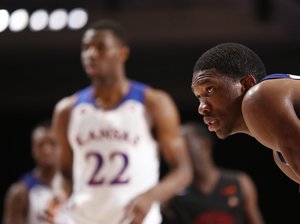 Bill Self will have a blast holding up a mirror to his players by watching video of them, and he'll use it to teach them how to move the ball better.
Self's Kansas University basketball team will improve through those sessions, but there is another issue every bit as important.
Freshman center Joel Embiid, who has emerged as KU's most dominant, most important player, must learn how to stay out of foul trouble so he can become a 30-minutes-per-game player instead of averaging the 17.3 minutes he has seven games into his collegiate career.
Kansas dominates with the basketball prodigy on the floor and is just another team when he watches.
At least that's how it has looked. Statistics can't ever be the starting point for evaluation, but they are nice in contradicting or validating your eyes.
Embiid's plus-minus numbers do more than that. They make the eyes pop.
Statsheet.com tracks plus-minus points, as in how the team does when each individual is on the floor.
Let's start by using all seven games and work our way back to the three games played in the Bahamas.
In the 124 minutes Embiid has played, KU has outscored opponents, 268-182. In the 156 minutes Embiid has watched from the bench, KU has a 293-292 edge.
Embiid's plus-minus average of 13.5 points per game is extraordinary for someone who doesn't even play half the game.
The Jayhawks score at roughly the same rate with (1.8 points per minute) or without (1.9) Embiid on the floor. It's on defense where his presence is felt most. With Embiid in the game, opponents average 1.5 points per minute, 1.9 when he sits. Over the course of a 40-minute game, that equates to a difference between 60 points and 76 points.
Now let's take a look at the most recent five games, eliminating the season-opener against Louisiana-Monroe in Allen Fieldhouse and the United Center victory against Duke.
That leaves Iona, Towson, Wake Forest, Villanova and UTEP. The only time KU was not outscored while Embiid sat came against Towson — KU owned a 28-point advantage when Embiid played, a two-point edge when he sat.
The five-game totals: Kansas 200, Opponents 117 with Embiid; Opponents 211, Kansas 187 without Embiid. KU averaged 2.2 points per minute with Embiid, 1.7 without. Opponents averaged 1.3 ppm with Embiid on the floor, 2.0 with Embiid on the bench. (Over 40 minutes, that's a difference between 52 points and 80 points for opponents.)
In the Bahamas, foul trouble limited Embiid to 48 minutes in three games, time enough for him to amass 29 points, 17 rebounds and 10 blocked shots, seven of them in the second half of the UTEP game. The bad news: He was whistled for 13 personal fouls.
With Embiid on the floor, Kansas outscored foes, 94-63. With him sitting, opponents had the advantage 141-119.
KU scored 2.0 ppm with Embiid, 1.1 without him. KU allowed 1.3 with Embiid, 1.3 when he sat.
All these numbers are starting to make my head hurt. Besides, they all add up to the same thing. Embiid makes his team way better when he's on the floor, so when he learns the difference between plays that draw whistles and those that don't, look out.
The high-wire act for Embiid becomes how to cut way down on fouls without sacrificing an aggressive style that so greatly plays in him changing games.
More like this story on KUsports.com