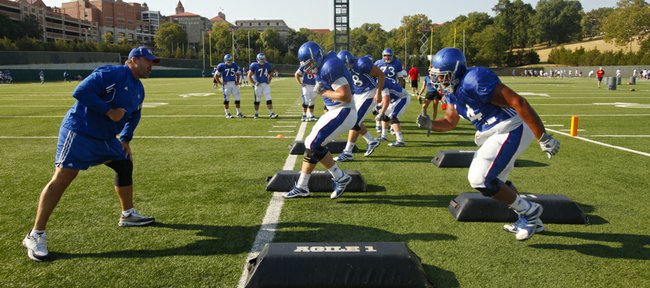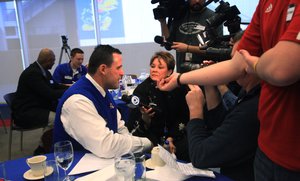 Saturday's 31-10 loss to Kansas State at Memorial Stadium marked Kansas University offensive-line coach Tim Grunhard's final game as a member of the KU coaching staff.
Grunhard, who confirmed last week that he would resign following his second season at Kansas, coached KU's offensive line for two seasons under head coach Charlie Weis, with whom he was connected through their alma mater, Notre Dame. Grunhard cited a desire to spend more time with his family, which includes four high-school-aged children, as his reason for stepping away from coaching.
Following the loss to K-State, a couple of Jayhawks took time to talk about Grunhard's impact on the program during the past two seasons.
"I can't say I'm sad to see Tim go," Weis said. "Because I know that he's happy. I know he's happy to be able to go spend some time with his wife and kids."
Grunhard's resignation, which was first reported by the Journal-World, did not appear to be a distraction for the team as it prepared to take on K-State. If anything, it may have helped fuel the Jayhawks' fire.
"I think if you saw how passionate the players had been here in the last few days," Weis began, "there is not one of those offensive linemen that didn't benefit from Tim being their coach."
Senior center Gavin Howard, who said he benefited tremendously from Grunhard's 11 years of NFL experience, credited Grunhard for making his transition to center during his final season much smoother.
"Any time he told you something, you knew it was coming from experience," Howard said. "You knew he had done that on the highest level for a number of years. Coach Grunhard's been a really good coach and a really good role model for all of us."
Grunhard's decision to step down opened up a vacancy on Weis' staff, but it appears the opening was short-lived. Sources told the Journal-World last week that Rice offensive coordinator John Reagan would be hired to replace Grunhard and would serve Weis in the dual role of O-line coach and offensive coordinator. Weis neither confirmed nor denied the report but said in a joint press release with Grunhard that a replacement had been hired.
Rice's 17-13 victory over Tulane last weekend earned the Owls (9-3) a berth in the Conference USA championship game scheduled for Saturday against Marshall (9-3). A source told the Journal-World that Reagan was expected to coach that game but likely would not be with the Owls for their bowl game.
Weis' comments Saturday regarding moving forward without Grunhard seemed to mesh with that timeline.
"Tim leaving (is) a little bit of a bump in the road because there's some guys that get really close to you in recruiting," Weis said. "But we'll go out there and rally, and we'll get Tim's replacement in before Christmas break."
As for the handful of Class of 2014 commitments recruited by Grunhard, Weis is putting them near the top of his priority list as he heads out on the recruiting trail.
"I'll be in all their homes this week, personally," he said.