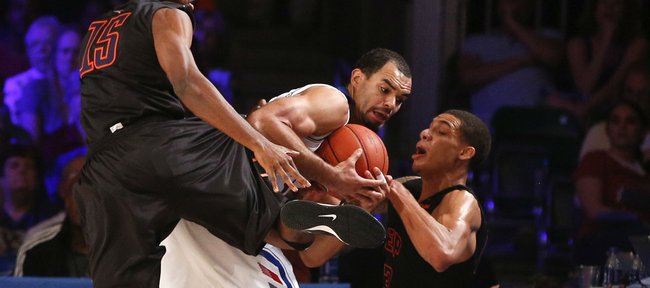 Photo Gallery
KU basketball v. UTEP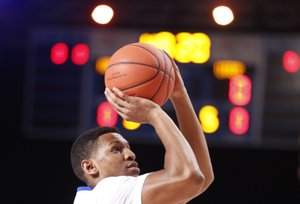 Images from Saturday's third-round game against UTEP in Paradise Island, Bahamas.
Podcast episode
Kansas basketball players Joel Embiid and Perry Ellis, and their coach Bill Self, talk about the hard lessons they learned after going 2-1 at the Battle 4 Atlantis.
KANSAS 67, UTEP 63
Paradise Island, Bahamas — UTEP men's basketball coach Tim Floyd busted out some gimmicks Saturday night against Kansas at the Battle 4 Atlantis.
First, it was the stall on offense. Then it was the triangle-and-two zone defense.
The ploys nearly earned the Miners a comeback victory against the No. 2 Jayhawks before they fell, 67-63, in the third-place game.
"We got beat by a fine team tonight," Floyd said.
Had this been a scheduled regular-season game against KU (6-1), Floyd wouldn't have taken drastic measures. But because the Miners (4-4) had less than a day to prepare for Bill Self's Jayhawks, he had to come up with something to give his overmatched program a legitimate chance to hang around.
UTEP opened the game by spreading the floor out and waiting until the shot clock got below 10 to initiate plays, the hope being Kansas wouldn't get as many possessions or chances to get out and run.
On defense, Floyd put three guys in a zone in the paint and the other two defenders face-guarded Andrew Wiggins and Wayne Selden, or Conner Frankamp and Andrew White III, depending on who was in the game.
"They're a very good man-to-man offensive team, so we chose to play our triangle because of their lack of preparation time, our lack of preparation time," Floyd explained.
Some Jayhawks misfires at the charity stripe in the second half (10-for-15) and turnovers (eight in the final 20 minutes) really gave UTEP a chance to rally back in the final minutes, though, the coach pointed out.
"(The Miners) fought," their coach said. "They created some turnovers and I thought we were really good at pushing the game offensively, getting ourselves to the rim."
UTEP needed that kind of outing after falling, 89-53, to Iowa in a Friday semifinal.
Said freshman forward Vince Hunter: "Our guys just wanted to go out today and play with heart. We didn't want to leave here without getting better."
Junior guard McKenzie Moore led UTEP with 15 points, and graduate guard Justin Crosgile added 14.
Floyd, though, said missing 10 of their 24 free throws didn't do the Miners any favors.
"We had (about) the same amount of free throws (as KU, which went 18-for-26), but shot a poor percentage," he said.
More like this story on KUsports.com