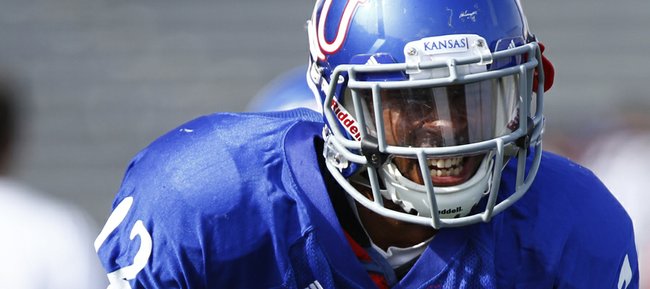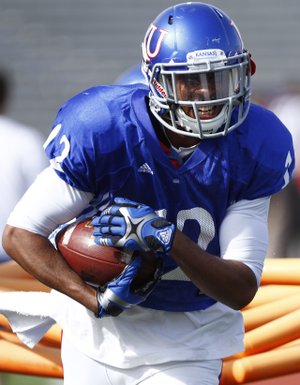 When converted Kansas University football receiver Tony Pierson was asked to run an in-cut during 7-on-7 drills a few weeks ago — a route he didn't know how to run properly — he turned to teammate Christian Matthews.
Matthews, a senior wideout, walked Pierson through all the steps of the route before having him do it on his own.
Pierson caught the next pass that was thrown to him.
"He coached me up on it," Pierson said, "and I ran it the right way."
Pierson has gone to Matthews between five to 10 times in the summer when he has had questions, and he's not the only one who is looking to the veteran for guidance.
Matthews, a 6-foot-1 receiver from Arlington, Texas, has drawn high praise from KU's coaches in fall camp for his work to improve himself and also teammates.
In a mid-August news conference, KU coach Charlie Weis said Matthews was "by far the leader" at the receiver position and commented that he "won't give the position away to anyone very easily, even though he hasn't played a lot."
On the first depth chart released this fall, Matthews was listed as No. 1 at the Z position, ahead of Tre' Parmalee, Rodriguez Coleman and Andrew Turzilli.
"It's been a long, long ride, but I haven't given up," Matthews said. "I just keep on moving forward. That's all I can do."
Most of the reason for Matthews' optimism this year is better conditioning.
A year ago, when he was still playing quarterback in the Jayhawks' Wildcat formation, Matthews said his body type was still that of a QB.
Because of that, the senior said he had no endurance. After two or three plays at receiver, he didn't feel like he had the same energy and knew he needed to be subbed out of the game.
Now that he has been switched to full-time receiver, Matthews has had an offseason to change his physique.
"He's leaned down. He's gotten stronger. That's very noticeable," KU receivers coach Rob Ianello said. "It was noticeable in the spring, and it's much more noticeable now. He's really embraced the idea of being a receiver, and he's worked at it."
Teammates also have noticed Matthews' commitment to improving himself.
"He's been the guy that's been (doing) extra in the weight room, done extra running out on the field," KU center Pat Lewandowski said. "People see that — especially the young guys — and they realize that's the work it takes to be out there on the field. He's showing that by example."
Because of his previous experience at quarterback and his knowledge of the offense, Matthews — one of only six scholarship players left from the recruiting class of 2009 — appears to be a bit ahead of some other receivers.
Ianello says it's beneficial for a player when he can see the whole picture of what's happening on the field, much like a point guard can in basketball.
"What you don't want to do in our offense is just get tunnel vision on the one position you play, because the concepts of the offense can move different guys around to different spots," Ianello said. "Say I only know this position up here, then what if we move you over here? Christian right now has as good of a grasp as anyone at the receiver position of all the positions."
Matthews knows it's all talk, of course, until he can produce on the field. Though he's had impressive spring games in the past (he had a 37-yard touchdown reception in 2010 and a 53-yard TD catch in 2011), he has combined for just 12 catches and 141 yards receiving in his three seasons with the Jayhawks. He had no receptions a year ago.
"I think it's time," Matthews said. "I've only got one more year. All I've got is one time."
More like this story on KUsports.com