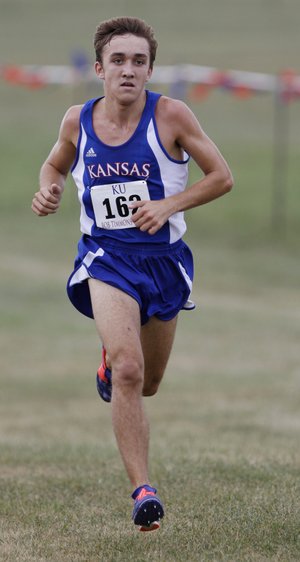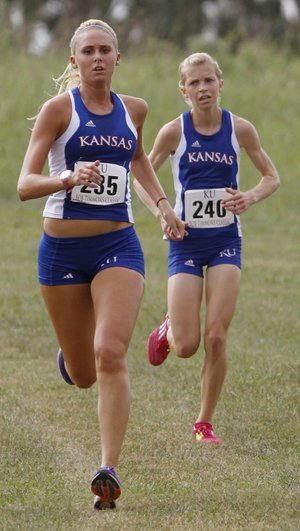 During one of the first practice runs of the season, Kansas University cross country assistant coach Michael Whittlesey noticed that freshman Tyler Yunk — from flat Belvidere, Ill. — didn't seem to be affected much by hills.
When he asked Yunk about it, the freshman laughed.
"We have them hidden," he told his coach.
Yunk sure looked like a veteran on the elevated terrain at Rim Rock Farm on Saturday.
In his first race as a true freshman, Yunk ran away from the field down the stretch, winning the Bob Timmons Classic by more than four seconds with a time of 19:34.19.
"I really wanted to show the upperclassmen that weren't running that I am here to compete," Yunk said, "and that I am a good addition to the team."
Yunk's effort was part of a successful day for KU, which swept duals over UMKC and Oral Roberts on both the men's and women's sides despite the Jayhawks sitting out many of their top runners.
The 5-foot-6 Yunk made his move on the back stretch.
Though teammate Conner Day was part of the lead pack early, Yunk and freshman roommate Alexandre Lavigne pushed themselves toward the front on the back hills of the 6K course.
"I wanted to show that I can do hills and hit them hard like here," Yunk said, "because every course is designed to be as tough as possible, and the toughest thing is hills. If you can master hills, you can destroy any race.
"I haven't said I've mastered it yet, but I've been doing a pretty good job."
Lavigne finished third with a time of 19:39.88 to give KU its only other top-five finisher.
On the women's side, KU had a pair of local freshmen impress in their first collegiate meets.
Overland Park's Jennifer Angles, who graduated last year from St. Thomas Aquinas, took second in the 5K with a time of 19:16.53.
"I love Rim Rock, so I was really excited to run here," Angles said. "I like the hills. I know that's kind of weird, but I like the challenge."
Right behind Angles was Lawrence High product Grace Morgan, who was third with a time of 19:17.38.
Morgan said the biggest difference between her first collegiate race and high school was the strategy involved. On Saturday, she worked much more with her teammates, in this case staying in a pack with Angles.
"It was great, because if we ever had any pain, we could just work through it together," Morgan said.
Whittlesey was impressed by the performance from the two true freshmen.
"They did exactly what we talked about, which was run it as a group and run it at least in twosomes," Whittlesey said. "I really thought they handled the situation really well. It's great to see local Kansas girls doing well at KU."
KU freshman Lydia Saggau added a fourth-place finish (19:29.92) and freshman Nashia Baker was sixth (19:32.94).
Chad Upshaw was the top finisher for the Haskell Indian Nations University men's squad (21st, 20:58.58), while Tiare Littlehead paced the HINU women (34th, 21:38.80).
KU will return to the same course for the Rim Rock Classic on Oct. 5.
More like this story on KUsports.com