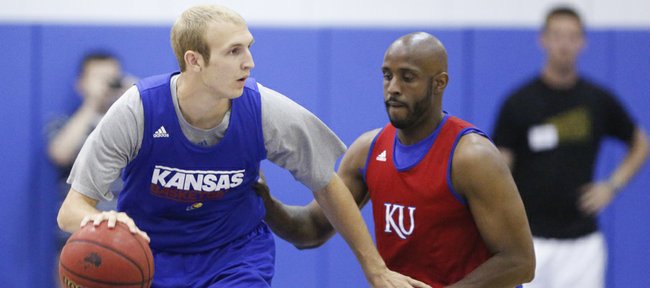 Conner Frankamp, who hopes to be in the mix for playing time during his freshman year at Kansas University, certainly didn't forget about basketball during a 31⁄2-week break between the end of summer school and Monday's start of the 2013-14 school year.
"I worked out, shot as much as I could, tried to work on my game and work on my weaknesses," said the 6-foot, 165-pound combo guard out of Wichita North. He entered the summer wanting to work on "defense, lateral quickness and staying in front of quick guards."
Since reporting back to campus, he has tried to pick up pointers not only from his own teammates but also former Jayhawks, such as Aaron Miles, who plays for Krasnie Krilya in Russia but makes Lawrence his offseason home.
"Aaron Miles comes back and helps me out, talks to me. That's a great help and great honor for me," said Frankamp, who has also run the court with NBA Development League players Brady Morningstar and Mario Little and others who pass through town.
Coaches are allowed to work with the players two hours a week in accordance with NCAA rules. Boot Camp conditioning will run the week of Sept. 16, with the actual early start of the season Sept. 27. Late Night in the Phog is Oct. 4.
"It's been really good. I feel the team is coming together," Frankamp said. "We're just doing individuals (workouts) and stuff right now. It's like everybody is doing well and working really hard. We can't wait. We're itching to get out there and start playing as a team, getting competitive and all that," added Frankamp, who averaged 31.1 points, 3.8 assists, 3.5 rebounds and 2.5 steals a game his senior year. He made 93 three-pointers, shot 49.2 percent from three-point range and 91.7 percent from the free-throw line.
Frankamp — he has been working out as both shooting guard and point guard — passed current KU teammate Perry Ellis as all-time leading scorer in Wichita City League history. Frankamp had 2,275 points to Ellis' 2,231.
Adams update: Former KU guard Anrio Adams has left Ohio University's basketball program. However, the sophomore-to-be's dismissal is not because of legal problems.
Woub.org on Wednesday reported Adams was arrested on an assault charge on Aug. 20 in Seattle. On Thursday the public-media organization issued a correction, saying it was Adams' father who was connected to the assault charge. The Athens Messenger reports it was Anrio Demetreous Adams Sr. who was arrested on Aug. 20, not his son.
"So was Adams dismissed or did he simply leave on his own? The answer likely lies somewhere in between the two extremes," writes Jason Arkley of the Athens Messenger. "He wasn't part of the program long enough to generate real roots, and may have simply realized he couldn't handle sitting out an entire season (after leaving KU). There is an expected adjustment period any time a new face joins an established program; a roughly eight-week window (summer school) may not have been long enough to truly gauge whether the arrangement would work," Arkley added.
Ohio immediately filled Adams' roster spot by landing Khari Harley, out of Egg Harbor Township High (New Jersey), according to the Messenger. Harley had previously committed to Robinson Prep School, but now apparently is off to Ohio U.
More like this story on KUsports.com