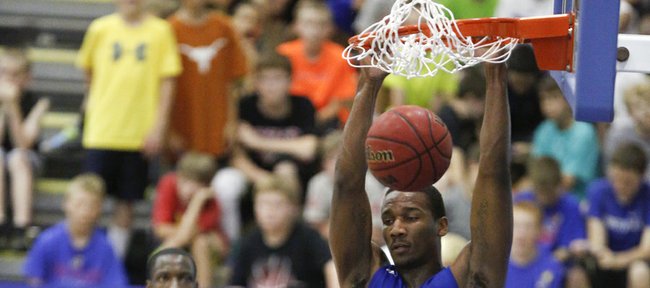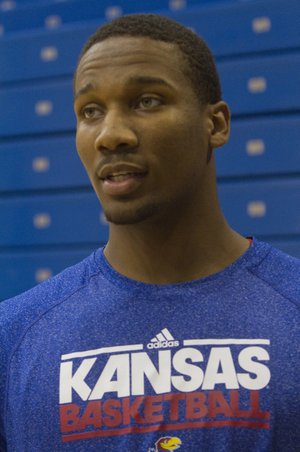 Wayne Selden headed to the 2013 adidas Nations camp determined to soak up as much knowledge about the game of basketball as possible.
On hand as pro instructors for the Aug. 1-5 event at Long Beach (Calif.) City College were current and former NBA players Kenneth Faried, Eddie Johnson, Damian Lillard, Don MacLean, Ralph Sampson, Iman Shumpert, Reggie Theus and LaSalle Thompson.
"I learned a lot of things. All the NBA help we had there was really good," Selden, Kansas University's 6-foot-5 freshman guard from Roxbury, Mass., said Wednesday after taking part in a photo shoot for the Journal-World's upcoming preseason basketball magazine.
"We went out there to compete and try to get better," Selden added of himself, plus KU teammates Perry Ellis and Joel Embiid. "We felt we did a good job of that."
Selden, who started classes at KU on Monday with his 17 Jayhawk teammates, just might have been unofficial college MVP of the counselor games at adidas Nations, which is a skills academy for top high school players.
"The single individual I came away most excited about, even though his name was spelled incorrectly in the program (Seldon), incoming Kansas freshman Wayne Selden," wrote Michael Levin of SB Nation. "He has the frame of an NBA two-guard already and he's only 18. Tremendously compact handles, excellent jumper, plays within himself, great body control, beautiful eyes ... he really has it all."
"Great week for Wayne Selden," tweeted Jonathan Givony of draftexpress.com. "One of the top performers here. Made shots, scored in transition, defended, played under control."
"KU guys Wayne Selden and Perry Ellis have been two of the most impressive performers here," wrote nbadraft.net.
Selden played on a team that included UCLA's Tony Parker and Kyle Anderson, Cincinnati's Sean Fitzpatrick, Louisville's Russ Smith and Buffalo's Javon McCrea.
Other college camp counselors included Baylor's Isaiah Austin, Oklahoma State's LeBryan Nash, N.C. State's T.J. Warren, Arizona's Kaleb Tarczewski, UConn's Ryan Boatright and many others.
"His body. That's a big guard. Just how strong he is. He can do whatever he wants, really," KU's Ellis said of what impressed him most about Selden.
Selden said he's glad to be back in Lawrence for this week's start of the school year after a few weeks back home. He attended KU summer school in June and July.
"All the older guys for sure," Selden said of the players who have been helping him the most in his adjustment to college. "Naadir (Tharpe), Jamari (Traylor), even Tarik (Black, senior but in his first year at KU) has been a really good leader. All the older guys help the freshmen a lot."
There has been one shocker since an unseasonably mild June and July.
"Oh, it's hot," he said of scalding late-August temperatures. "It doesn't get this hot in Boston. It's hot out here. It's good to be here. Everybody's excited to be here."
Milt hired by Wolves: Former KU guard Milt Newton, vice president of player personnel of the Washington Wizards the past 10 seasons, has been hired as general manager of the Minnesota Timberwolves, the Washington Post reports.
Flip Saunders, the Timberwolves' president of basketball operations, will continue to have final say over personnel decisions but "needed an experienced executive to deal with scouting and other aspects of running a team," the Post reports.
According to the Post, Newton "created the Wizards' comprehensive scouting database, led pre-draft efforts and conducted workouts for prospects. In his time with the Wizards, Newton has also been heavily involved in charitable efforts and assisted with the NBA's Basketball Without Borders delegations in South Africa and Senegal."
Newton was a member of KU's 1988 NCAA title team.
Adams out at Ohio: Former KU guard Anrio Adams has been dismissed from the University of Ohio basketball team, the Athens Messenger reported.
"After meeting with Rio, we've agreed that it's in his best interests to pursue his basketball career at the junior college level," Ohio coach Jim Christian told the Messenger. "We wish him the best in his future endeavors."
Woub.org originally reported Adams' dismissal was related to an assault charge in Seattle, but later the public media organization issued a correction, saying it was Adams' father who was connected to the assault charge.
More like this story on KUsports.com