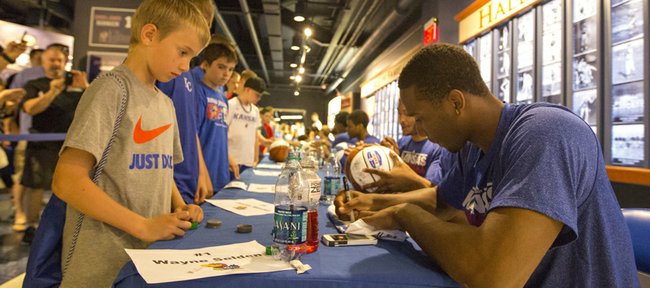 Kansas University's basketball players typically sign hundreds of autographs — for fans young and old — after each and every game in Allen Fieldhouse.
The Jayhawks need up to 30 minutes to traverse the line outside the northwest tunnel and satisfy most everybody desiring their signatures.
That setup — orderly as it is — might have to be altered a bit in the wake of a scandal at Texas A&M;, allegedly involving quarterback Johnny Manziel receiving money for signing items that have shown up for sale on the Internet.
"We're going to have to change," said KU coach Bill Self. "Our kids are so accessible because after every game they sign autographs and things like that. I don't want to be the bad guy, but I'm sure we're going to have to have an athletic department policy. You can't sign unless you personalize it (as the KU football players did at Fan Appreciation Day)."
Personalizing an autograph on an item decreases the value of the item.
"I personally think it could get to the point because it's abused so much — you've got people that are selling things from these kids that sign, and you know who they are for the most part — maybe you can't sign for anybody other than a child. Or maybe you can't sign for anybody outside the building after the games," Self said. "Everywhere we go, we get off the bus, there's people waiting for us. We're going to have to change how we do things. I'm sure the compliance office will come up with a game plan for that."
Two professional autograph seekers awaited the arrival of freshman Andrew Wiggins the afternoon of June 15 at Jayhawker Towers. Accompanied by a KU staff member to his apartment after landing at Kansas City International Airport and driving to Lawrence, Wiggins did not sign that day for those autograph seekers.
Response to lists: Self was asked his reaction to an offseason ESPN poll of 250 college coaches that named KU assistant Kurtis Townsend the No. 1 recruiter of all assistant coaches in the country and Self the No. 2 recruiter of all head coaches and No. 4 Xs and Os coach.
"You could ask Kurtis about this, but that means absolutely nothing, less than zero. I haven't even read what you are talking about," Self said. "I have no idea. I'm sure it was some blog, maybe a family member wrote it. I don't put too much stock in that stuff," he added with a laugh.
Predictions: Lindy's Magazine ranks KU fourth in the country in its preseason college basketball magazine, soon to hit stores. Michigan State is No. 1, followed by Kentucky, Duke, KU, North Carolina, Ohio State, Louisville, Florida, Oklahoma State and Michigan. The top four teams will compete in the Champions Classic on Nov. 12 in Chicago. KU is sixth in the Sporting News' preseason top 10. Kentucky is No. 1, followed by Michigan State, Louisville, Duke, Arizona, KU, Michigan, Syracuse, North Carolina and Oklahoma State.
More like this story on KUsports.com