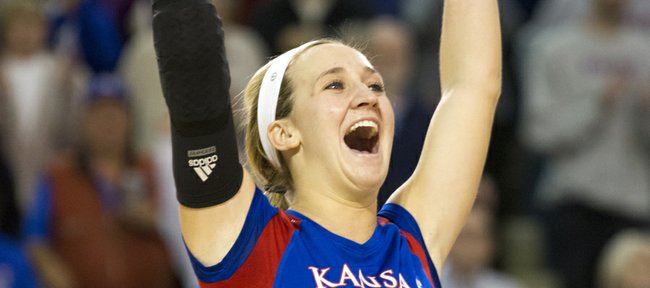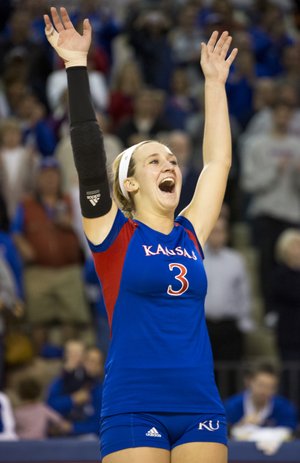 Sometimes at practice, when Kansas University volleyball coach Ray Bechard tires of one player doing all of the talking, he tells senior libero Brianne Riley to stifle.
"We have a drill where she can't talk, just so the entire team can get a sense of what it's like when she's not (speaking) ... they might think, 'OK, maybe I need to do a little bit more,''' Bechard said of his reason for silencing the 5-foot-6 dynamo from Naperville, Ill.
"She feels so strongly about her team and the program and competing. She is just an unbelievable communicator for sure," Bechard added of his assistant coach on the court.
While it's easy for the Jayhawk players to defer to Riley — by rule a libero stands out by wearing a different-color jersey from the rest of the team — they realize it's smart to copy her lead in the leadership department.
"Bri is always talkative. I always tell her I can hear Bri's laugh right down the hallway. I could tell it's her 1,000 miles away," senior outside hitter Catherine Carmichael said. "We are used to Bri taking charge and being our main communicator. When coach tells Bri she can't talk, it makes everybody a little uncomfortable, which can be a good thing. When it makes other people step up, it's good for us."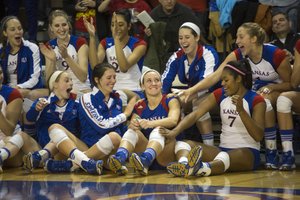 Riley is as uncomfortable as her teammates during the times she's told to zip her lips.
"It's awful. It's painful for me," Riley said with a smile. "I can't tell if the girls like it or if they don't like it because sometimes I think they tune me out and enjoy hearing me not talk for a while, but it is painful for me."
She knows the method to Bechard's madness.
"I think the girls have gotten used to me communicating so much, especially since my freshman year. I think I quiet some people down because my voice carries in the gym," Riley said. "I think coach B does it to bring more out of other girls, but it is painful."
She's willing to give up her vocal cords for the team.
"All the time I am hoarse. There are times I have absolutely no voice, it's completely gone," Riley said. "Offseason it comes back. I start to tone up a little bit. My parents will tell you I'm tone deaf. My voice is just gone."
Riley's willingness to speak up during a trip to Bechard's KU volleyball camp her senior year of high school helped her earn a scholarship to KU. The volleyball, basketball and track standout from Benet Academy in suburban Chicago exuded confidence when looking at KU's all-time volleyball records list with the 16th-year KU coach.
"We have a big board out there (in Horejsi Center). I'm not sure I brought it up or she brought it up. Somehow the conversation went to ... she said, 'I think I can hold that digs record someday.' I said, 'OK, well, let's go,'" Bechard said.
It took Riley just three years to pass Melissa Manda (2007-10) as KU's all-time digs leader. Riley enters her senior year with 1,498 digs to Manda's 1,457. Riley is also single-season digs leader with 613 a year ago.
"I saw it on one of those history boards with the records. When I saw that board, I told him, 'I can break that for you.' He looked at me kind of shocked and said, 'All right,''' Riley recalled.
"I had no idea," Riley added, asked if she felt she could set the record in three seasons. "I think when I said it, I did not know what I was talking about, but I said it."
Bechard formally offered Riley a scholarship as she left Lawrence after his camp.
"When I came to KU, I fell in love with the place like everyone else who gets recruited here. As I was leaving, he offered me. I went home, immediately called him back and told him I'd love to be a Jayhawk," said Riley, also recruited by Northwestern and others in Big Ten country.
Riley stressed she received a lot of help in setting the digs mark.
"I think I earned that spot, but it also comes with, our team is so good," Riley said. "Our middle blockers funnel balls to me, which makes my job so much easier (as primarily a defensive player). Everyone makes my job so much easier. I'm a pretty competitive person. The girls on our team make it just as competitive going to practice. It's not something I did on my own. I had to fight for that position. There's people behind me all the time (Jaime Mathieu, Amy Wehrs, Cassie Wait) also at my position. They are pushing me every day."
Riley, a first-team Academic All-Big 12 selection who plans to attend nursing school in the area next year — "I love all my people here; I don't think I'm ready to leave them," she said — first plans to help KU continue to fare well in the Big 12 (the Jayhawks went 12-4 a year ago) and land a second consecutive spot in the NCAA Tournament.
"It's exciting going into practice every day knowing we have something special," Riley said of a team led by junior Sara McClinton, a first-team All-Big 12 outside hitter a year ago. "Coach B said we had a special season last year, but we want to make it significant. We have all the tools that could do that. It's a matter of coming together, which we've done. We played all together last year."
Riley said under Bechard's leadership it's a close-knit team again this year.
"I think our senior class has set a standard for the program," Riley said. "It's like a Tayler Tolefree thing (former KU middle blocker from Lawrence who graduated in 2012). When I go out there, I want to play up to her expectations and what she would expect. I hope these girls feel the same way, that they are playing for past teams and that standard."
More like this story on KUsports.com