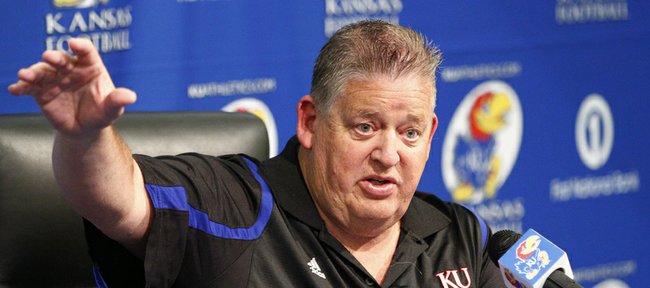 Whether they start Friday night, like Kansas State and Texas Tech, or Saturday like seven other league teams, nine of the 10 Big 12 Conference football coaches made the transition from offseason to game week on Monday.
And while each of them talked on Monday's Big 12 coaches teleconference about upcoming opponents, probable starters or the outlook for the 2013 season, Kansas University coach Charlie Weis shared his team's plans for an unusually early bye week.
"Normally, I wouldn't like the extra week," said Weis, whose Jayhawks will open the season a week later than most other college teams, 6 p.m. Sept. 7 against South Dakota at Memorial Stadium. "But because we have so many guys that we're counting on that were juco guys that just arrived here, it's given us an opportunity to take this week and go through a simulated game week as if we were playing this Saturday."
Frequently, teams use bye weeks to get healthy, recharge their batteries and catch their breath during the grind of the college football season. But with KU getting its first of two bye weeks (the other is Sept. 28) during the opening week, Weis has no need for such a strategy. He said last week that his squad emerged from fall camp almost fully healthy and, therefore, plans to use this week to plot the course ahead.
"That way, when you get to game day," he said, "they've already gone through it once, which should definitely help us next week, when we're actually getting ready to play."
For the most part, that means meetings, film study and, because class began Monday, classes and tutoring at their regular game-week times.
When Saturday arrives, instead of waiting until 6 p.m. to practice, Weis will get that part out of the way early so the rest of the day can be devoted to watching the season begin.
"We've been simulating the 6 o'clock at night deal for the last week," he said. "So we're gonna come in at 6 (on Saturday), practice from 7 till 9:30, take a shower, come in and watch the tape, go eat some lunch, and then we'll sit there and watch college football games to see if we can't get a jump-start on some of our early opponents."
Although the week off gives KU seven extra days of preparation, Weis said he viewed it as a one-year bonus that he does not want to get used to.
"There's definitely advantages to playing right from the start," he said. "Everyone's antsy, school's in session, everyone would love to be playing the first week. But in our case, because we have so many new guys that are transitioning, I think in this isolated incident it really plays to an advantage for us."
Depth chart almost set
While most of the week will be spent simulating game week, Weis and his coaching staff also will be looking to etch a few first- and second-string names on the depth chart in permanent marker instead of pencil.
"There aren't very many major battles left at this point," Weis said. "There's a couple battles for first team and a couple battles for second team, but I'd say 90 percent of the issues are resolved."
And how does that depth chart look as Weis heads into his second season in charge of the Jayhawks?
"I think that we're deeper with guys that can compete in the Big 12 by a large margin than we (had) last year," he said. "Last year, you were hoping for things to happen, and now you're expecting things to happen, and that's the major difference."
Special guests
Sunday was "KU Day at The K," and Weis and his football team were among the hundreds of Jayhawks in attendance as the Kansas City Royals snapped their seven-game losing skid with a 6-4 victory over Washington.
While the win gave the fans in the stands plenty to cheer about, one family had an unforgettable day that had very little to do with the outcome.
Ryan Bresette, his wife, Heather, their sons, Tyler, Joe and Sam, and daughter, Anna, were invited to the game by Weis as guests of Kansas football. The invite came with the opportunity for Tyler, 6, to throw out the first pitch to Joe, 13, and was Weis' way of trying to help bring joy to a family that lost their son, Luke, when a sign at the Birmingham, Ala., airport collapsed in March, killing him.
"There's good days and there's bad days," Ryan told KMBC-TV in an interview at the ballpark. "Today is definitely a good day. Emotionally, we're hanging in there. Physically, we're getting healed. We're just so thankful for the people of Kansas City, Birmingham and across the country that have provided support to us."
Opurum, McDougald survive Chiefs cuts
Former Jayhawks Toben Opurum (FB) and Bradley McDougald (S), undrafted free agents who signed with the Kansas City Chiefs after April's NFL Draft, survived the Chiefs' first cut this weekend.
The cuts dropped the Chiefs roster to 76. It will need to be trimmed to 75 by tonight and to 53 by opening day.
More like this story on KUsports.com