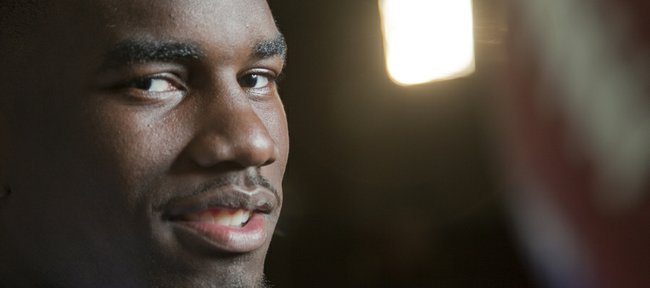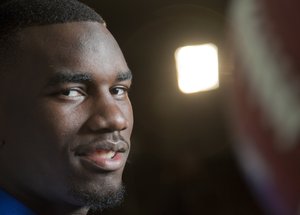 Eight years ago this week, Hurricane Katrina, one of the deadliest natural disasters in United States history, began battering the country's Gulf Coast and brought the city of New Orleans to its knees.
The horror, both of the storm and its aftermath, lingered for weeks and was one of the darkest chapters in the lives of thousands who called New Orleans home.
It also was when Kansas University cornerback Greg Allen began to see light.
Although the horrific memories and stories of Katrina remain fresh in his mind, Allen said he and his family now look at the storm as a blessing even if the topic remains emotional to talk about. Had it never hit, there's no telling where the potential ills and temptations of New Orleans would have taken him. Instead, the 12-year-old Allen relocated from the harsh environment of the Crescent City to sports-crazed Houston, where the football field became his new home.
"My whole family looks at it like that," Allen said. "It happened for a reason. If my mom tells it, she says she wasn't living right, and Katrina just washed up everything. For me, it got me involved on the right path and off the streets of New Orleans."
Added Allen's mother, Carmella: "I'm not saying I'm glad the storm hit, but I'm glad that it made a better life for Greg than there was in New Orleans."
• • •
Allen and his mother left New Orleans three days before Katrina made landfall. Along with his grandmother, Linnie, and sister, Joanellie, they headed to Houston to live with cousin Shanquilla, who was starting college at the time. At first, the arrangement seemed temporary.
"I was young, so me going to Houston was not as big a problem as it was for my aunts and uncles," Allen recalled. "They didn't want to leave. They had already gone through so many of those and they never left before."
Evacuating early hardly kept the Allens from feeling the terror that accompanied Katrina. Too young to understand the full magnitude of the hurricane's devastation, yet old enough to know that this one was different than the others that came before it, Allen's biggest fear at the time was wondering when, if at all, he would see his family again.
It took weeks.
"It was just scary," Allen said. "I'm sitting there, the TV's on, and you're seeing people you know on TV, people that you know laying in the streets dead, and there's nothing you can do about it. Me and my family were just sitting around crying because our family that stayed in New Orleans all went to the Superdome, and we were watching on TV just hoping to see them."
The Allens were lucky. The entire family survived the disaster.
"It was agonizing how long it took," Allen recalled. "It probably was a month, maybe longer, just waiting for that phone call."
All of this happened just before Allen's father, Greg Sr., was killed back in New Orleans.
Amazingly, Linnie and Carmella's homes, which sat side by side, were spared any significant damage. Linnie moved back and still lives there today. But Allen and his mother, whom he calls "mamika," stayed in Houston so he could explore the world of sports at Alief Taylor High.
• • •
During his elementary-school years, neither Allen nor his mother thought athletics would be a part of his life.
"New Orleans didn't really have sports like that," Allen recalled. "Especially not in middle school. I don't know what made me get involved in sports. I guess I was bigger and faster than everybody."
Although Katrina sent Allen and his family to Houston in search of safety, security and a new beginning, the KU cornerback continued to call The Big Easy home and held on to a few key New Orleans connections that kept him focused on his goal of playing Div. I football.
While many of the young men Allen grew up with turned to a life of crime and found trouble all too easily during their teenage years — just last week a former NOPD police officer was found guilty in the 2012 murder of Allen's cousin, Wendell, whom Carmella said was his idol and like a brother — Allen set his sights higher thanks to three future NFL players.
Miami Dolphins wide receiver Mike Wallace, Cincinnati Bengals running back BenJarvus Green-Ellis and Kansas City Chiefs safety Kendrick Lewis all grew up on the same block as Allen. Allen was roughly 9 years old when those three were starring for their New Orleans high schools, and Allen, who keeps in touch with all of them but particularly Lewis, said he was mesmerized by their status as football stars.
"I was 'Little Greg' to them," Allen recalled. "But I really looked up to them. I knew I wanted to be like that."
The role models gave Allen just enough hope and direction to believe he could make it.
"I think about that a lot," Carmella said. "I think, 'I wonder what school Greg was gonna go to after he got out of elementary school.' A lot of them had guns and stuff, even way before the storm. I'm just glad my son chose to go on the honor roll and didn't go down that other road."
• • •
Allen was not a bad seed. Carmella made sure of that. But when his father was killed and that type of violence began creeping closer to home, it strengthened Carmella's belief that a fresh environment was the best thing for her son.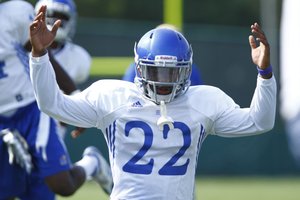 "Greg didn't go that route," Carmella said of life on the streets. "I'm kind of strict-like. I don't play. He had kin folk that went that route, but he was always messing with animals. He had chickens, roosters, an iguana, a pit bull. But the thing he loved most was fish. He dealt with that fish tank like it was a child."
Carmella said there are pet store employees in Houston who still ask about Allen. And like any mother, she's more than happy to boast about her son the college man, No. 22, who is competing for playing time at cornerback for the Jayhawks in the Big 12.
"What he's doing, I'm just so proud of him because a lot of his cousins or friends got killed or went to jail," Carmella said. "There's not a day that I don't talk about him."
So much has happened since Katrina turned Allen's world upside down. After choosing Kansas over scholarship offers from Utah, Mississippi and Memphis, the 5-foot-11-inch, 205-pound Allen red-shirted as a true freshman in 2012 and spent the following spring and summer working at cornerback and safety to try to find the fastest route to playing time.
He's still young by football standards but seems to be making good progress.
"For kids like Greg, the toughness part of it is already there," KU assistant head coach Dave Campo said. "So all you're doing is building confidence. I think Greg's made a lot of improvement, and I think you gotta kind of make 'em feel at home. That's a big part of it."
The way Allen sees it, he has three homes now — New Orleans, Houston and Lawrence, with each new stop putting the others farther in the past.
"I don't think about the old days too much, but sometimes I do because most New Orleans kids don't really consider college," Allen said. "They get a job, they get pregnant or get into some kind of trouble, and I always think about how that could've been me."
His last visit to New Orleans came last winter, when he felt at times like he was visiting a new place for the first time.
"It's not all the way back," Allen said. "Because, for me, what made it home was my family and friends. If I go back, I'm probably not gonna see most of the people I knew when I was there. Some are dead, some are in prison, and some just grew up and have their lives now. The streets are still empty. There are still abandoned houses. It's just not my fit any more. It'll never be the same for me."
More like this story on KUsports.com