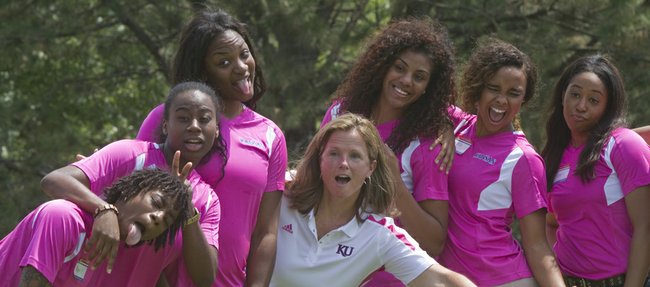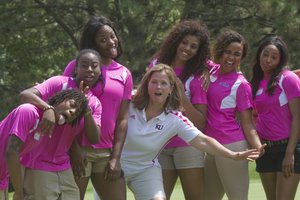 The popularity of Bonnie Henrickson's annual golf tournament at Alvamar shows how appreciative the community is for everything the Kansas University women's basketball coach does to heighten breast-cancer awareness and how well-run the event is every year.
As for what Bonnie's basketball team accomplished in back-to-back seasons, the rest of the coaches in the Big 12 ought to build a statue in her honor.
Seemingly leaning toward the wrong side of the bubble in both seasons, the Angel Goodrich-led Jayhawks not only earned an NCAA Tournament berth but made it all the way to the Sweet 16 both times. Think about it: Every time the selection committee discusses a Big 12 bubble team, the lead sentence in the argument in favor of inclusion should be, "Look at what Kansas did the last two times it was a bubble team."
Entering her 10th season as KU's head coach, Henrickson never has posted a winning record in Big 12 play, but is coming off consecutive Sweet 16 appearances. Nobody ever again has to say the Big 12 is a loaded conference. Kansas proved it.
"I think it speaks volumes to how good the league is," said Henrickson, whose team defeated Nebraska, Delaware, Colorado (in Boulder) and South Carolina in the NCAA Tournament the past two seasons.
It's worth wondering how Danielle McCray's bubble team could have performed had it received an NCAA Tournament bid instead of having to settle for making it to the WNIT title game.
Anyway, coaching her team onto the bubble will be the tough part this season for Henrickson, who must find a way to overcome the graduations of 1,000-point career scorers Goodrich, Carolyn Davis and Monica Engelman.
Natalie Knight, blessed with a soft shooting touch and a smart player who seldom turns it over, is back from knee surgery. Center Chelsea Gardner has sure hands and knows how to score. Asia Boyd is tough to stop driving to the hoop and rebounds well for a perimeter player, but will need to perform with more consistency.
Henrickson welcomes a talented, five-deep freshman class that includes twins Dakota and Dylan Gonzalez, the most photographed freshmen in program history. We won't know for a couple of months how the five freshmen will make the transition to the college game, but they certainly made a nice impression mingling with the crowd while the golfers ate and made their silent-auction bids.
As usual, pace of play was brisk, which keeps players returning to this well-organized tourney played on both Alvamar golf courses. Henrickson, in the midst of negotiations for a multi-year contract extension, threw the credit for that to director of operations Katie Capps and to volunteers from the Hardwood Club, the women's basketball booster group.
More like this story on KUsports.com