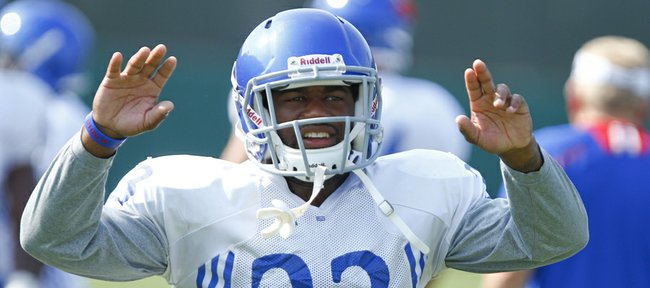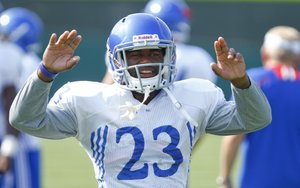 Feature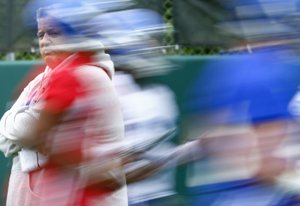 The KU Edition Jayhawks football preview ran as a special section in Aug. 25's Lawrence Journal-World.
Dexter Linton had to stop himself from crying.
Linton, a Kansas University safety, sat at his locker following the Jayhawks' 25-24 home loss to Rice on Sept. 8 of last year, knowing if he'd made the tackle on fourth-and-four against Rice tight end Vance McDonald in the final two minutes, his team would be celebrating a victory.
"I just felt like I lost the team the game personally," Linton said. "I knew there were more factors to it, but I felt like I could change the game, and I didn't do it.
"So I just felt like everything was over for me."
Instead, it turned out to be a new beginning.
Looking back, the 5-foot-10 1/2, 195-pound safety says the tough time helped turn him into the player he is today.
Though a few teammates came over to him and patted him on the shoulder after the game, it was a message from Darius Willis that stuck with him after the linebacker pulled him to the side.
"I told him, 'Don't dwell on that. Don't dwell on the situation that just happened,'" Willis said. "'Just think about any time you feel like you're tired, think about the time when you felt down about this situation, and just push yourself even more.'"
Linton said the words helped him keep perspective.
"Everything's changed since then. I have no fear about messing up any more," Linton said. "I know I'm going to mess up, but I'm just going to push through it and try to make plays next time, next go-round."
Linton immediately showed his ability to bounce back. A couple of days later, he was told by coaches he would start the team's next game against TCU.
The senior ended up playing in all 12 games while starting two for the Jayhawks a season ago, racking up 26 tackles and two pass break-ups.
He's hoping for more this season.
"If I could get interceptions, that would be beautiful," Linton said. "PBUs are nice. Tackles are nice, too. But I need interceptions. I need turnovers."
He should have plenty of opportunity.
On the latest depth chart, Linton is listed as the starting strong safety ahead of freshman Tevin Shaw and sophomore Tyree Williams.
KU assistant head coach Dave Campo, who oversees the defensive backs, says Linton didn't immediately show all his talent a year ago but instead was "one of those guys that has continued to chop wood."
Campo went on to say that every secondary needs one person who controls the group, and he could see Linton being that player.
"The No. 1 attribute he has is, he's smart. There's a lot of those guys playing in the National Football League where some guys more talented are going home. That's what he brings to the table," Campo said. "But he's got speed. He's got coverage ability at safety, which … that's a real luxury, because if we're going to be a pressure-type football team — which we have to be — he's a guy that can do some coverage stuff."
Willis said he has seen a new dedication in Linton in the last year, as he's improved his covering skills and play recognition. Willis also has seen Linton work harder this summer in the film room.
"He's not second-guessing himself," Willis said. "That's big at his position."
One reason for the confidence, Linton says, is the learning experience that came after a missed tackle a year ago.
Now, Linton believes he can overcome anything that might come his way.
"It just helped me know that my teammates had my back. Regardless of what I do, they're behind me," Linton said. "Now, I just have no worries. Now I can just be myself, and that's the greatest feeling in the world."
More like this story on KUsports.com