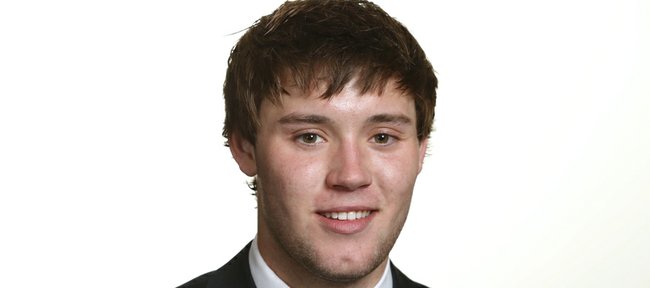 With fall camp coming to a close Friday at Kansas University, football coach Charlie Weis shed some light on how the Jayhawks' depth chart stacked up during his final preseason meeting with the media.
Weis did not release a full depth chart — that will come on Sept. 3, when KU begins preparations for its Sept. 7 home opener against South Dakota — but he did offer a few hints about how things have changed from opening day of camp and painted a clear picture of what the team looked like at several positions.
One of the most notable nuggets Weis served up came in the kicking game. It has been long assumed that junior-college transfer Trevor Pardula had a stranglehold on the punting and kickoff jobs, but little-known walk-on Matthew Wyman appears to have charged to the top of the depth chart as KU's place-kicker.
"He has a legitimate chance of being named the field-goal kicker a week from Tuesday," Weis said. "He came in here (a distant thought) on the depth chart, and he's a candidate to be the field kicker because he's kicked so well. He's got good pop, he's got good range. He has no problem making it from 50 yards, and he's been very consistent."
Wyman, a sophomore from Bloomfield Hills, Mich., attended KU as a student before joining the football team last spring through walk-on tryouts. He earned one letter kicking for his high school football team and also played soccer. While it was his ability to knock the ball through the uprights that sparked his rise from unknown to on top, Wyman also has earned the respect of his teammates in other ways.
"He works very, very hard," said Charlie Weis Jr., a team manager. "He's not your typical kicker. He's winning runs, he's working his butt off in everything, and it's very encouraging when you have a guy that can make field goals but also competes."
Slater still gone
The elder Weis said offensive tackle Pearce Slater was still in California dealing with a family medical emergency and could not provide an update on the likelihood of his return.
"As of right now, I have no idea if and when he'll get here," Weis said. "I told him, 'It would really be good if you were back on Friday night because Saturday is picture day, and I'd like you to be in the picture. But, ultimately, the best time to be back by would be Sunday night because school starts on Monday."
Bolton to red-shirt?
Hinds (Miss.) Community College transfer Andrew Bolton's recovery from a 2012 knee injury has kept him from competing at 100 percent and inspired Weis to consider other options for the defensive end.
"I'm gonna do everything I can to red-shirt him," the coach said of the 6-foot-3, 280-pound pass-rusher. "I've already had the conversation with him, and both he and I would favor him not playing this year and getting his knee 100 percent healthy and being ready for spring time with two years to play two."
Although the news comes as a disappointment given the high hopes for Bolton, Weis said there was a silver lining.
"I'm looking at the future of the program," he said. "You can't bring in this many junior college kids (20-plus) and play them all because then you're scrambling again for numbers (down the road)."
Chemistry clicking
Weis said the camaraderie between the newcomers and KU's veterans was great throughout camp for one reason.
"I haven't really had too many concerns with the chemistry because we play the best guys," Weis said. "Some of the old guys have earned their position to be out there first."
Combs still battling
One player who came in as an expected game-changer for the KU defense was defensive tackle Marquel Combs, but, through three weeks of camp, the 6-3, 300-pound lineman's transition from juco standout to Div. I contributor remains a work in progress.
"Right now, he's not a starter," Weis said. "We've got a week yet, but I think there are a lot of guys in that category that their reputations are really high, and their ceilings are really high, but are they better than the guy in front of them? That is the big question."
Johnson hot
Juco transfer Isaiah Johnson, 6-1, 210, has been in town since the end of July, but evidently he's made quite an impression.
"He's been the best safety since the day he's been here, so he'll be the starting safety," Weis said.
Short charging
Another juco transfer who has been in Lawrence a short time but appears to be a big part of KU's plans on defense is former Fort Scott cornerback Kevin Short, who arrived on campus earlier this week.
"Kevin Short will be playing Week 1," said Weis of the 6-2, 185-pound junior. "Whether he's playing first or second, I can't tell ya, but don't be surprised if he's out there first. You can say, 'What about all those guys that have been here before him?' (but) if they're not as good as him it doesn't make a difference. The best guy plays."
Healthy Hawks
Despite two appendectomies in a three-day span and the loss of transfer linebacker Marcus Jenkins-Moore to an offseason knee injury, Weis said his squad made it through fall camp in good health.
"We have some bumps and bruises, but it looks as though we won't have anyone that's not ready to go for the opener," he said. "I can't ask for much more because we beat the hell out of 'em pretty good."
More like this story on KUsports.com