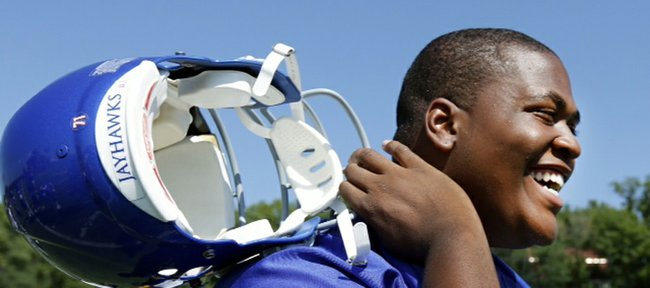 Podcast episode
Kansas coach Charlie Weis talks to reporters during a press conference on Friday, Aug. 23, 2013.
Kansas coach Charlie Weis opened his Friday press conference by addressing the status of junior-college offensive lineman Pearce Slater, who left the team Saturday to attend a family emergency.
The coach provided a timeline of events. He said at 6 a.m. Saturday he met with the 6-foot-8, 340-pound Slater in the football offices, with the offensive lineman telling him he'd received a call at 4 a.m. alerting him of a family medical emergency. Slater then went to the airport to fly home, and Weis said the sophomore called once he arrived in California to alert the coach he'd made it safely.
When the two communicated, Weis told Slater it'd be best — if everything turned out OK — for him to return by Friday for the team picture or at the latest by Sunday so he could be ready for Monday's first day of school.
"As of now, I have no idea if and when he'll get here," Weis said.
Weis said he texted Slater again Friday morning.
"I have not heard from him," Weis said. "I'm taking him for his word (that he'll return)."
Since Slater's departure, some reports have surfaced about the lineman's potential interest in OU — a school he visited after committing to KU. On Monday, The Oklahoman reported that Slater wasn't joining the OU football team and also that he wasn't enrolled at the university.
More like this story on KUsports.com