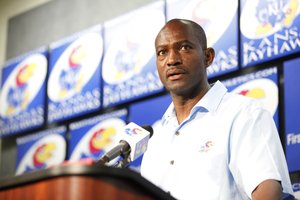 Stanley Redwine — the first coach to lead a Kansas University women's athletic team to an NCAA championship — hasn't let success go to his head.
"He is the same, humble, caring human being who is a great coach and person to be around for sure," said KU volleyball coach Ray Bechard, who works down the hall from Redwine, an unassuming 1985 University of Arkansas graduate who directed KU's track and field team to the Outdoor title last spring in Eugene, Ore.
"I'm very happy for him. He's worked hard. As a colleague, we know how hard it is," added Bechard, who is beginning his 16th season at KU. "Good things happen to good people."
Redwine, who is beginning his 14th year as KU track and cross country coach, has led a program that has injected life into KU's entire athletic department, said KU soccer coach Mark Francis.
"I want to thank coach Redwine," Francis said, interrupting his own preseason soccer news conference to talk about track. "Stanley's group ... what they did was make everybody else realize, 'Hey, it's possible to have that kind of success.' I think the women's track team really made that statement for every athlete at Kansas, especially on the women's side because it's the first national championship we've ever had on the women's side. It's set the tone for this year."
The good news is, 2013 NCAA outdoor track and field coach of the year Redwine isn't planning on settling for one national title.
"One thing I would say, my mentor, John McDonnell, has done is instill the philosophy, 'Once is not enough,''' Redwine said of the man he ran for, then worked for as an assistant coach for 11 years at Arkansas. "He has won the most national titles of any coach ever — 42 titles. While I was there, we won 28 (six as an athlete, 22 as coach). He was never satisfied with one. He laid the groundwork to show us exactly what to do. We are definitely not satisfied with one, but we are appreciative of it."
Redwine, whose Jayhawks placed second at NCAA Indoor in 2012 and '13, said KU's first first-place finish has helped on the recruiting trail.
"I think what it's done ... in the beginning, as coaches we sold ourselves a lot. Now we can sell the success of the program," Redwine said. "It gets people's attention. That's the first start.
"KU is a great place to recruit to. Because we won the national title or won Big 12 titles, it opens the door (for athletes) to visit campus. Once you visit campus, you see it's great. Hopefully we can get the great athletes."
Redwine believes KU has added a strong recruiting tool in its new stadium at Rock Chalk Park, which will open for business this spring and will play host to the 2014 Kansas Relays.
"Everyone is definitely excited about it," Redwine said, "because now we can host big meets. We don't have to run on a 440-yard track (at Memorial Stadium, which prevents KU from hosting the Big 12 Outdoor; surfaces must be 400 meters). People don't understand, but gone are the days where they run 440s. They run 400 meters. We don't go yards anymore. We've kind of been living in the past, relying a lot on the history of KU. It's time to change. We're excited we're able to get our own facility."
Redwine said that in past years, there were different starting lines for different events at the Relays.
"It's confusing to the officials, confusing to the athletes, confusing to everyone," Redwine said. "One thing I'm not is an excuse-maker. We are always going to do the best with what we have. Now we have the opportunity to have a facility on our own. We're excited about it. I am thankful Dr. Zenger (Sheahon, AD) was able to make it happen."
Redwine said the facility "will be one of the best stadiums in the nation. I believe with Tom Fritzel (project developer) ... he doesn't do things second-class. This is no exception."
While Redwine is already looking ahead — "We understand we are in cross country season now; the success we had in track season doesn't mean we'll have the same success in cross country unless we have the same means to get there, by working hard," he said — he's willing to discuss last spring's NCAA title.
"I have been blessed," Redwine said, asked if he thought he could engineer a national title at KU after arriving from Tulsa, where he worked as head coach from 1994 to 2000. "I've always known what it takes in order to do it. With the success coach McDonnell had at the University of Arkansas while I was an assistant ... he showed us a program of success that if you follow it can be equally successful.
"It's a result of our athletes working hard, training hard and the work all coming together," he added of that secret of success. "Each athlete worked super-hard. They wanted to succeed for the team. When you had seniors like Andrea Geubelle, Francine Simpson — I could go down the line — they wanted it for the program. It was fun to see them put it together."
It was so much fun, he maintains it has been more gratifying to him to win NCAAs as a coach rather than an athlete.
"Because when you are running, you are in control of your destination," Redwine said, "but when you are coaching, you are hoping those athletes do what they are capable of doing. To me it shows not just myself, but our coaching staff brought out the potential that the athletes had. When they competed to their potential, great things happened."
The title was a culmination of more than a decade of work.
"I love Kansas. It's a great place," Redwine said. "Look at the tradition here. If you look at the coaches who were able to do it here before us (on men's side) ... if they were able to do it, why can't I do it here? I can't blame weather. I can't blame anything else. You have to blame yourself, be in control of what you have. There's always been a tradition of success in track and field at Kansas. If they can do it, why can't we?"