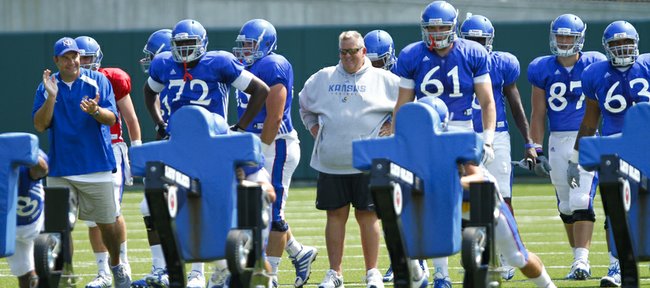 The changes that hit Kansas University's football program this offseason have been well documented.
From bringing in new players to bolster the roster to plans for a new attack on both offense and defense, KU coach Charlie Weis' program looks drastically different than the version he put on the field in 2012.
One thing that has not changed, however, is the way true freshmen go through fall camp. Wednesday afternoon, several KU rookies were made available to the media for the first time since arriving, and their tales about the ups and downs of camp life prove that the pecking order is still alive and well in college football.
"Coming in, I was very nervous," former Bishop Miege quarterback Montell Cozart said. "It's very different than high school camp. When they told me it was three weeks long, I was like, 'Wow.'"
Added Shawnee Mission East grad Jordan Darling, who is competing with Cozart for reps at quarterback: "I did have the overwhelming feeling, which I'm sure most freshman QBs do. That first practice, your head's spinning, you don't know what's going on. … It's basically starting from scratch. The formations are different. The play calls are different. I'm not sure if you've ever heard a play call, but it's kind of like Chinese. It's a mouth full. It takes about a week-and-a-half just to get the flow of the calls down."
Since that time, Cozart, Darling and the rest of KU's freshmen have settled in little by little and started to make steady progress. While efforts on the field have been praised, they have continued to be reminded where they stand in the grand scheme of things.
"Yeah, definitely," tight end Ben Johnson said. "Any time you come into a program and you're a freshman, it's always gonna be like that to some degree. Little things like, 'Hey, go put my playbook away,' or 'Yeah, get me a Gatorade.' You kind of have to do it, but at the same time you have to earn respect."
Darling said he, too, often was teased as one of the younger guys in camp, but he always looked at it as paying his dues.
"Your first couple days, they'll just say, 'Hey, go grab me a water,' or something like that," he said. "But nothing too major."
One freshman who benefited from a head start is running back Colin Spencer, who joined the Jayhawks for spring football. Spencer opened camp competing to be the third-string F back behind Tony Pierson and Brandon Bourbon and has turned in solid performances during the past few weeks.
"I got that initial shock out of the way (last spring), and going into camp I was more used to the speed of things and able to concentrate more on the playbook and technique," Spencer said. "I've heard from most of my coaches that I've been playing a lot faster in fall camp than I did in the spring. I haven't noticed it as much as they have, but I've even had some of my peers on the team say that."
Quarterback coming?
Former UCLA quarterback T.J. Millweard, a red-shirt freshman-to-be who was granted his release from UCLA last week, was at KU's practice Wednesday morning and appears to be considering Kansas as his next destination.
The 6-foot-4, 230-pound Millweard, who was a member of the 2012 recruiting class, sat out last season as a true freshman at UCLA. He went to high school at All Saints Episcopal in Fort Worth, Texas, where he threw for nearly 4,000 yards and has ties to the Kansas City area.
"I grew up in the Midwest and the South," Millweard said in an interview with the Los Angeles Times earlier this week. "UCLA is a great school, but it is a different fit for who I am. … Hopefully I'll be able to find a spot that will give me the college experience I want."
Millweard, who likely would walk on if he chooses Kansas, will have three seasons of eligibility remaining beginning in 2014.
More like this story on KUsports.com