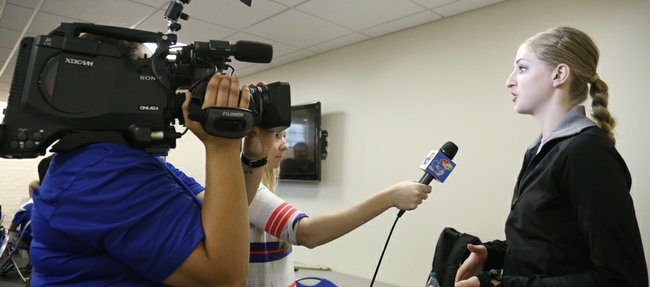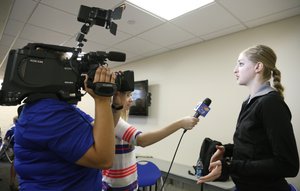 Caroline Jarmoc isn't bothered if others have high expectations for Kansas University's volleyball team this season.
Her goals are even more ambitious.
"I want to have the best season KU volleyball has ever had," the senior middle blocker said during fall sports media day Wednesday at Allen Fieldhouse. "The bar is high."
After a breakthrough year in 2012 — KU's 26-7 season set school records for wins and winning percentage — the Jayhawks are expecting even more in 2013 led by four standout returners: Jarmoc, senior libero Brianne Riley, junior outside hitter Sara McClinton and senior setter Erin McNorton.
Each racked up honors a year ago. Jarmoc was a second-team All-America selection, the first All-American in program history; Riley set the school's career digs record in just her third season; McClinton earned All-Big 12 first-team honors; and McNorton led the Big 12 in assists, ranking seventh nationally.
KU volleyball coach Ray Bechard says now it's time for his program to take the next step: from being successful to being significant.
What does that entail?
For one, the coach would like to see his team start well in the nonconference season against a schedule that he admits is probably more aggressive than it needed to be. Nine of the Jayhawks' first 10 matches are on the road.
"We have to set the tone that we can compete against high-level teams from other conferences in their facility," Bechard said, "because at some point in time, if you want to be successful in the league, you're going to have to beat very good teams on the road."
Another objective for Bechard is to advance farther in the NCAA Tournament than last year. KU fell in the second round to Wichita State a year ago at Allen Fieldhouse.
The Jayhawks haven't made consecutive NCAA Tournament appearances since going to three straight from 2003-05.
"The program has been to the second round of the NCAA Tournament three times, but not beyond that," Bechard said. "Obviously, (advancing past) that would be a goal also."
KU will open its season in the Arizona Invitational on Aug. 30.
Soccer 'this close' last year
Kansas soccer coach Mark Francis' biggest frustrations in 2012 were the 1-0 losses.
In four of his team's eight conference games, the Jayhawks lost 1-0. Even more agitating was that Francis believed his team dominated three of those matches.
"In our sport, that doesn't mean you win," Francis said. "You've got to finish your opportunities, and we were this close."
After KU finished 10-8-2 and 3-5 in league play last year, Francis believed little details made the difference between winning and losing, and he has changed the Jayhawks' practice routine to reflect that.
KU players' shoe bags and backpacks were allowed to be thrown anywhere on the ground at practice last year; this year, one player is in charge of making sure all the bags are lined up.
The Jayhawks now warm up at practice in a more ordered fashion, going in distinct lines with the same tempo. One person is in charge of making sure all players sprint to the huddle instead of jogging; another makes sure the locker room is picked up.
"I thought it was needed," junior defender Caroline Van Slambrouck said of the added structure. "It's little details. It's knowing that everyone is on the same page at the same time.
"It's more than, 'Oh, our bags look nice together.' It's that when you get out to practice, you should be mentally focused."
Francis will oversee a young team. Eight of his 22 players are freshmen.
The Jayhawks will get a boost from the return of midfielder Liana Salazar, who is back for her sophomore season after red-shirting a year ago. The Bogota, Colombia, native played for her home country in the 2011 FIFA World Cup and scored the Jayhawks' only goal in a 1-0 exhibition victory over Nebraska-Omaha on Sunday.
"She's a dynamic player," Francis said. "She's definitely going to make us better offensively."
KU will open the regular season at 7 p.m. Friday at Arkansas.
CC shoots for NCAAs
A great start and disappointing finish in 2012 has KU's cross country team re-evaluating its strategy for 2013.
After the team earned a top-25 ranking early last season, KU coach Stanley Redwine said he made a mistake in letting the men push themselves too hard.
"Now we're going to have to hold them back a little bit," Redwine said, "so we can be healthy at the end of the season."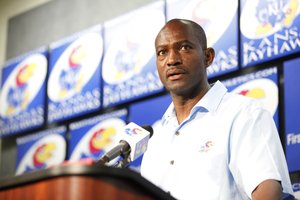 The Jayhawks' biggest disappointment came in the final meet, when they finished sixth in the NCAA Midwest regional. Only the top two teams in each regional — plus 13 other at-large berths — qualify for the NCAA Championships.
"The idea this year is to still get great workouts in," KU senior Josh Munsch said, "but kind of preserve that a little bit longer."
Redwine stated the goal this year is to qualify for nationals and that the runners had already talked about their aspirations to make it there.
"It's going to be a long road," Munsch said, "but I definitely believe we have the talent to do it."
In addition to Munsch, juniors James Wilson, Evan Landes are Conner Day are expected to be among the top returners.
On the women's side, Redwine will be relying on youth, since he added 10 freshmen to the roster in the offseason.
The coach said he hoped the success of the KU women's outdoor track and field team last season —the squad won its first national championship — will have a carryover effect for this year's cross country team.
"I believe that our women will be ready, but it is yet to be seen," Redwine said. "The expectation is for them to continue to do well, and I think they'll step up to the challenge."
The cross country teams will open their season by hosting the Rim Rock Classic on Aug. 31.
More like this story on KUsports.com