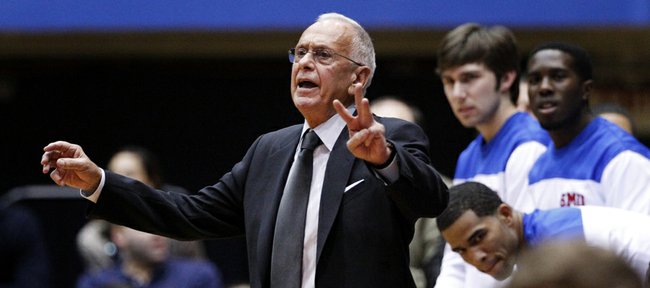 It's only taken former Kansas University head coach Larry Brown and ex-Jayhawk assistant Tim Jankovich one year to make SMU relevant in hoops again.
Speaking to ESPN on Monday, Brown would not rule out his Mustangs for a 2014 NCAA Tournament bid — which would be the school's first invitation to the Big Dance since 1993.
"This year we will be so much better," said Brown, whose first SMU squad went 15-17.
SMU, which moves from Conference USA to the American Athletic Conference (which includes Louisville, UConn, Memphis, Cincinnati, Temple) this season, returns five starters, as well as Illinois State transfer point guard Nic Moore, junior college center Yanick Moreira and McDonald's All-America shooting guard Keith Frazier.
"I believe without question that we're going to be good," said Brown, who is assisted by SMU coach-in-waiting Jankovich, former head coach at Illinois State and standout player at Kansas State.
Brown, 73, says he wants to coach at least four more years. His son, L.J., is a freshman at SMU. "I want to see my son graduate. This helps in recruiting," he told ESPN's Andy Katz.
SMU's aging Moody Coliseum is in the midst of a $46 million facelift. The building will reopen in December.
All-star weekend in New York: Several KU recruits will be playing in the Under Armour Elite 24 all-star game, set for 6 p.m., Saturday (ESPNU), at the Tobacco Warehouse in New York. The slam dunk contest and skills competition will be aired at 6 p.m., Friday, on ESPNU.
Playing for Team Coney Island: No. 3-ranked (by Rivals.com) Emmanuel Mudiay (6-5 Dallas Prime Prep Academy), No. 7 Rashad Vaughn (6-5, Findlay Prep, Henderson, Nev.), No. 8 ranked Stanley Johnson (6-6 Mater Dei High, Santa Ana, Calif.), No. 19 Kelly Oubre (6-5, Bush High, Richmond, Texas), plus Stephen Zimmerman (7-0, Bishop Gorman High, Las Vegas), who is ranked No. 2 in the Class of 2015.
Playing for Team Bed-Stuy: No. 2 Tyus Jones (6-1, Apple Valley, Minn. High), No. 6 Myles Turner (6-11, Trinity High, Euless, Texas), No. 16 Justise Winslow (6-6, Houston St. John's High) and Malik Newman (6-3, Callaway High, Jackson, Miss.), No. 1 player in the Class of 2015.
Turner to sign late: Myles Turner, who will not sign until the spring signing period, has scheduled just one official visit so far — to KU for the Oct. 4 Late Night in the Phog. He also is considering Duke Arizona, Kentucky, Louisville, Ohio State, Texas and Oklahoma State.
"Every school on the list that we can schedule a visit with we will," Turner's dad, David, told Cats Illustrated. "We want to give everyone a fair shake."
Robinson likes KU: No. 52-ranked Elbert Robinson, 7-foot-1, 310-pound senior from Lakeview Centennial in Garland, Texas, tells ponypride.com he is considering KU, SMU, Ohio State, Louisville, Georgetown, LSU and Georgia Tech. He said he will make a campus visit to KU.
"I have great interest in SMU. Larry Brown is a great coach and he has developed a lot of NBA pros. It'd be a great opportunity to play for a coach like that," Robinson told ponypride.com. "I'm going to take all my visits and go from there. I want to sign during the early period in November."
More like this story on KUsports.com