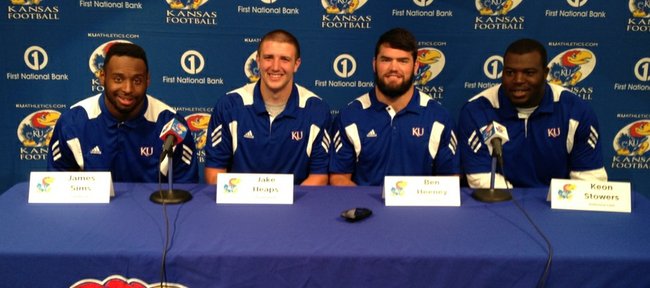 Long before he was voted as one of the Kansas University football program's four captains for the 2013 season, junior quarterback Jake Heaps made it a point to groom others to join him.
In the days that followed KU's season-ending loss to West Virginia last December, Heaps engaged in one-on-one meetings with several of his teammates to lay the groundwork for the offseason and season in the distance.
"The very next day Jake called me in and we talked for like two hours, just about what my role needs to be now," said junior linebacker Ben Heeney, who, along with Heaps as well as senior James Sims and junior Keon Stowers was named a captain for 2013 on Monday. "I'm not just a sophomore and I need to step up. I feel like I've done that."
Added Sims of his meeting with KU's quarterback: "He was just telling me to become more of a vocal guy because the players on the team are gonna look up to me. I just took that in and bought into what he was saying."
Heaps had similar talks with several others, and although the tone of each was slightly different, the message was the same.
"The biggest thing is we're just about the team," Heaps said. "This is a team effort and we're not a bunch of individuals."
Although Heaps was the man who spearheaded the change in the way leadership was both perceived and carried out at Kansas, the former BYU quarterback does not feel he did anything special.
"That's not a pat on the back on me, that's just being a teammate and recognizing that these guys have leadership qualities that they don't realize they have," he said. "These guys have done an amazing job this offseason and that's why we've come together so much as a team."
Stowers, who like Heaps earned the respect of his teammates in just one season, said having Heaps take the leadership reins early made a bigger impact on everybody.
"To hear it coming from a player, it's different," Stowers, a junior nose tackle. "When you hear it from a coach, it's sort of like a parent or a father-figure coming down on you, telling you you have to be better. When it's coming from one of your buddies that you see in the laundry room or you see in the dorms or in the lunch room, it sticks with you more because those are the guys who are out there between the lines."
That last part was something Weis felt was missing from his first KU team and something he felt was vital for any quality team. That's why he and his coaching staff emphasized the importance of leadership so much in the offseason and also why they're willing to step aside and let KU's leaders lead.
"To have a consistent winning program, you have to have players that are willing to take on the responsibility of leadership," Weis said. "Because when it's in the fourth quarter and times are tough and somebody's gotta pull it together, it's not Coach Weis yelling from the sideline that's gonna get it done. It's gonna be somebody saying something in the huddle that's gonna get it done."
The team vote took place on Sunday, with the Jayhawks instructed to vote for one player on their side of the ball and one wildcard that they believed would represent the team well. Heaps, Heeney, Sims and Stowers were by far the top four vote getters — Weis tallied the votes himself — but there were nine other names that garnered enough respect from their teammates for Weis to create a leadership committee.
The other nine — tight end Jimmay Mundine, wide receiver Christian Matthews, running back Tony Pierson, center Pat Lewandowski, defensive end Keba Agostinho, nickel back Cassius Sendish, safety Dexter Linton, buck Darius Willis and holder Blake Jablonski — will not walk out to midfield for the coin toss or earn the asterisk in the media guide that indicates which players were team captains, but they will have a role.
"I think it's awesome," Heaps said of KU's leadership committee. "It's not just us four being leaders on this team. There are other leadership roles on this team and you need to have those guys."
More like this story on KUsports.com