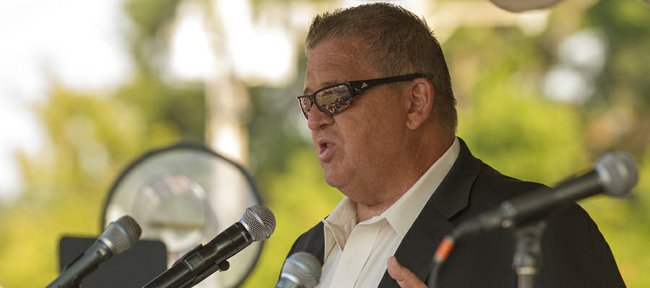 Prairie Village — Kansas junior receivers Tony Pierson and Rodriguez Coleman did not participate in the Jayhawks' Friday practice that was open to media members.
KU coach Charlie Weis said Friday night that both were held out for precautionary reasons.
"It's training camp. You get people banged up in training camp," Weis told reporters at the KU Kickoff at Corinth Square. "If there was any earth-shattering news, I'd let you guys know.
"They weren't the only guys not out there. They're just the two that you noticed that weren't out there. Realistically, people get banged up in training camp, and you hold them (out)."
Pierson, who switched from running back to the versatile "F" position in the offseason, was KU's best playmaker last year when he rushed for 760 yards on 117 carries with four touchdowns, while Coleman is a junior-college transfer from Garden City Community College.
Short update
Weis gave the latest update on junior cornerback Kevin Short, who is the only junior-college player who has not yet reported to KU while completing his academic responsibilities at Fort Scott Community College.
Weis said he expected to have Short with the team soon.
"Everything that he needed to get done is done now," Weis said. "It's just that when you're dealing with these last-minute things … it's official transcripts you end up waiting for. It's not us waiting for them. It's the clearance.
"Trust me, he's wearing us out, and we're wearing him out. If we get the information this evening, he'll be there this evening, and he'll get a workout in this evening as well, too. We'll just have to wait and see how it goes. But when it gets done, we'll let everyone know."
Scrimmage today
KU will hold its annual fan appreciation day at 11:15 this morning at Memorial Stadium. The gates on the west side of the stadium will open at 10:45 a.m., while inflatable games for youths will be available from 9-11 a.m. on the southeast side.
Cameras will not be allowed inside the stadium until the completion of practice. Afterwards, Weis and the Jayhawks will sign autographs for 30 minutes.
Weis told the fans at Corinth Square that the team would scrimmage for 100 plays at the event.
"If you want to actually see whether we're worth a crap, come to the stadium," Weis added with a laugh.
More like this story on KUsports.com