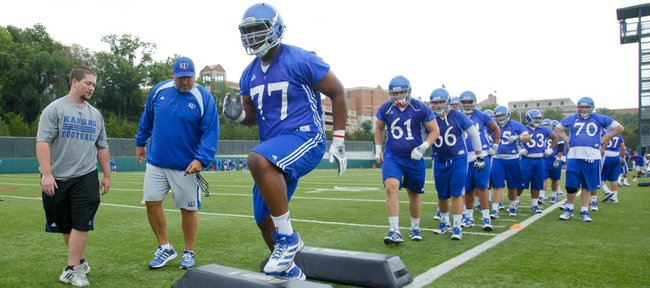 The joke Kansas University football coach Charlie Weis liked to tell during fall camp in 2012 was that then-newcomer Aslam Sterling, an offensive tackle from Nassau Community College in New York, was a cheeseburger shy of 400 pounds.
Somebody better question the Hamburglar.
In the roughly 12 months since Sterling first arrived on campus, the 6-foot-5 offensive tackle has shed more than 80 pounds, conditioned himself to be able to play as many snaps as a series calls for and inherited what many consider to be the most important position on the offensive line as he opened fall camp as the Jayhawks' starting left tackle.
"Aslam's the most changed player we have on our team," Weis said when camp opened earlier this month. "Last year, whatever weight we had down was a lie. He was probably about 400 (pounds). He's 315, has done a great job on and off the field. Academically, he had a lot of work to do and he got it all done. His body's changed. He's a totally different person."
Sterling's transformation did not take place in a short period of time, rather gradually as he began working immediately after landing in Lawrence.
"That was one of my main focuses last year," Sterling said. "Drop the weight, get lighter, and that's what I did every day. Before practice I would run, then during practice, and after practice I would run."
Sterling credits strength coach Scott Holsopple not only for helping him trim down but also, and maybe more importantly, for teaching him how to keep the weight off and move toward an even healthier existence. Sterling's initial goal heading into the offseason was to see the numbers 330 on the scale, but after blowing by that weight faster than anyone expected, he figured he might as well keep going. He now weighs 315 pounds and said he feels like a completely different player than the one who labored through 12 games — eight starts — during the 2012 season.
"Losing the weight has really helped me with stamina and being able to play longer," Sterling said. "Last year at this time, I was only doing like three plays and then I had to get out of there. Now I can stay in there for as long as I need to."
The extended time on the field has allowed Sterling to become more of a leader, something the Jayhawks' unproven offensive line was in dire need of heading into camp.
"If you're only playing three plays, you can't be a leader," said Sterling with a hint of shame cutting through his words. "You can't be sitting there yelling at people because they'll be like, 'You can't even handle what you need to.' Losing the weight has really made me be able to say, 'Come on, do this and do that. I'm doing it so you guys need to be doing it, too.'"
It's also given the Jayhawks an answer for losing four-year starting tackle Tanner Hawkinson to the NFL Draft.
"We really believe, athletically, he's a guy that can handle the left tackle spot," said Weis, who moved Sterling from right tackle to left tackle over the summer. "I wouldn't put him at left tackle if I didn't think he could compete over there at a high level."
Added KU quarterback Jake Heaps: "Everything you want in a tackle, he has. So we're gonna see how he does, but I feel confident that he's gonna be able to play that position very well and be a dominant left tackle."
You don't have to look far to find others who share Heaps' sentiments about KU's new left tackle. Sophomore Ben Goodman, who is listed as the first-string Buck pass rusher on KU's defense, said he had lined up against Sterling on almost every play so far this camp. And although he's proud of the strides his teammate made to chisel his body into one that looks a lot more like those you see on NFL offensive lines, Goodman's looking forward to facing somebody else's left tackle in three weeks.
"He's already good," Goodman said of Sterling. "But he has potential to be great. He's a big, skilled dude that can really move and there are not too many people that have that natural ability to be that big and move. Coming from almost 400 to 315, he's probably one of the most athletic, gifted guys we have for how big he is."
Asked if he thought KU's defensive linemen had grown tired of facing him, Sterling answered by showing off another area of his game he transformed this offseason — his confidence.
"Yeah, they are," he said with a smile. "They were tired of me after the first day."