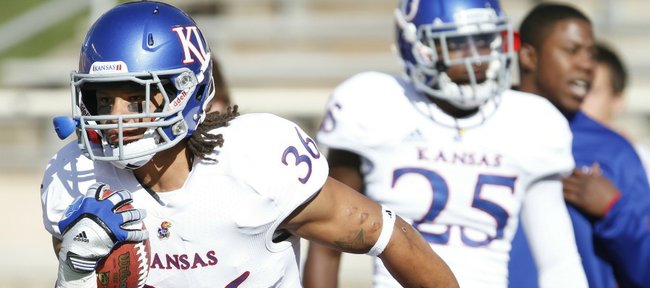 Running back Taylor Cox knows that getting carries in the crowded Kansas University backfield figures to be a difficult task this season.
But, at least for now, the senior from Mill Creek, Wash., would rather compete with all he's got than give in to the idea of red-shirting the upcoming season.
Cox, who gained 464 yards and scored three touchdowns in 12 games last season, said he's heard the chatter from KU fans clamoring for him to take the year off with James Sims and Tony Pierson entrenched as KU's top two backs and Darrian Miller returning and Brandon Bourbon emerging.
"I definitely appreciate people wanting me back here," Cox said. "That makes me feel good. But, at the same time, I also want to compete. So I feel like it's positive in both ways."
Cox said he talked with KU coach Charlie Weis and running backs coach Reggie Mitchell about the idea of red-shirting before fall camp began a couple of weeks ago.
"There wasn't a big meeting deal," he said. "They kind of just brought it up to me as something to think about. No one tries to hide anything over here. Everything's out in the open. They just brought it up to me and asked me to think about it, and I just decided to come compete in camp and be with my teammates."
Although Cox is more inclined to fight for carries and do whatever he can to help the 2013 Jayhawks turn things around, he said he was not opposed to the idea altogether.
"Further down the road, if the question is brought up again, we'll meet again and go over details," he said. "It'll be a group decision again. But for now, I'm not red-shirting. I'm just looking forward to the season. ... I'm gonna be the same Taylor Cox, red-shirt or not. I'm gonna give 100 percent effort and practice like I'm the starter."
Here, catch
While a lot has been made of KU's depth in the backfield, running backs coach Reggie Mitchell said Thursday that KU's top five ball carriers all possess some pretty solid receiving hands.
"It's unusual to have all of those guys who can catch," Mitchell said.
Asked to pinpoint the top pass catchers in the bunch, Mitchell said Pierson and Bourbon have separated themselves because catching the ball comes more naturally to both.
That makes perfect sense, considering Pierson is expected to be used more as a receiver in 2013 and Bourbon, a junior who has had trouble staying healthy and getting on the field, is listed as his immediate back-up at the F position.
"The main thing right now is I'm trying to get my body used to running all the different types of routes," said Bourbon, who admitted that his favorite part about the position was that it gave him a chance to get on the field. "The way the offense works, I could line up anywhere. We should be a lot more explosive. We're expecting (the passing game) to be pretty good."
Camp Groundhog?
With Thursday's practice marking the halfway point of fall camp, Bourbon was asked to share the pros and cons of this year's camp.
"The best part is just the camaraderie of being around your guys and going out and going to battle against the defense every day," he said. "It's just so fun because they're talking trash in the training room and we're talking. The worst part is just the lack of sleep. You're so busy, your body hurts, it's sore. And by the time you get done you just don't want to go to sleep because you know you gotta wake up and it's the same old thing, it's Groundhog Day."
Short en route?
Cornerback Kevin Short, the final piece of KU's offseason haul of junior-college talent who has yet to arrive in Lawrence, has been updating his progress on Twitter during the past few days. Among the highlights of Short's updates were: news that he had received his grades and was just waiting on his transcripts and word that he had begun packing up his dorm room at Fort Scott Community College.
Short could arrive any day. He opened camp as a second-string cornerback behind Dexter McDonald.
Embree honored
KU junior Connor Embree, the son of former Colorado coach Jon Embree, who came to KU in 2011 as a walk-on, was officially placed on scholarship after Thursday's practices. Embree announced the news on Twitter and said, "Want to thank my team for the support today! Got great news that the staff was putting me on scholarship. #rockchalk." Embree opened fall camp competing with true freshman Colin Spencer for the third-string role behind Pierson and Bourbon.
Fan Appreciation Day
KU fans are welcomed to attend Saturday's practice, which will run from 11:15 a.m. to 1:15 p.m. at Memorial Stadium. Gates open at 10:45 a.m., and the event also will feature the HyVee Hawk Zone from 9-11 a.m. at the practice fields southeast of the stadium. No cameras are allowed during practice, and at 1:30 fans can line up to get autographs from their favorite Jayhawk players and coaches. KU football posters, rosters and other promotional items will be available for the team to sign. Any other items brought for signing will have to be personalized by the coaching staff and the KU players.