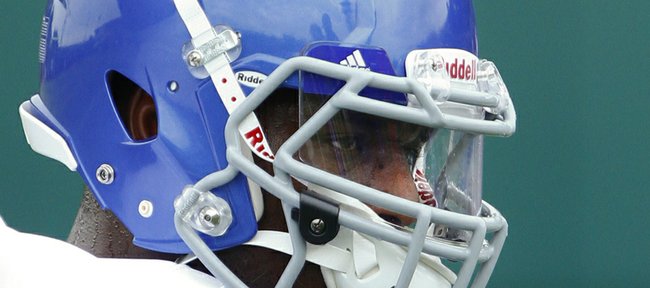 When former five-star defensive end Chris Martin was dismissed from the Kansas University football program this offseason after a run-in with the law, KU fans started to utter the name Andrew Bolton more than just about any other.
Because of his elite blend of power and speed, Bolton, a 6-foot-3, 280-pound defensive end from Hinds (Miss.) Community College, developed quite a reputation during the recruiting process for being the type of player who could make a major difference in a short time.
While his potential to do that remains intact, defensive line coach Buddy Wyatt cautioned about expecting too much too soon from the former three-star prospect who chose Kansas over offers from Iowa, LSU and Mississippi State.
"I think those are fair expectations," said defensive line coach Buddy Wyatt of the excitement surrounding Bolton. "But, obviously, you can't expect too much of a young man who hasn't played in so long that's coming off of a knee injury, as well. It may not be the first half of the season when his true colors show up, but I think eventually they will show up."
Bolton suffered the injury early on in the 2012 season, which gave him a chance to rehab the knee throughout his final year at Hinds. Although his entire world has changed in the past couple of months — from juco to Division I, a new address, new teammates — Bolton said he felt he had adjusted well to Lawrence.
"It is a long way from home," he said with his thick Mississippi accent. "But it's been a good experience, meeting all of the players that have been here and spending time with 'em. I'm comfortable."
Wednesday, during his chance to speak with the media, Wyatt said he had seen improvement throughout fall camp from nearly every player in his group, including Bolton.
"His biggest strength is his size and his athleticism," Wyatt said. "He's got a little rust we need to knock off because he hasn't played ball in a while. But once he gets it, I think we're gonna be really, really impressed with what he can do."
Buck wild
At least a couple of KU's interior defensive linemen have been impressed by the blur they've seen on the edge of the line from their outside pass rushers, known as Bucks.
During Wednesday's media session, nose tackles Ty McKinney and Keon Stowers praised Buck trio Ben Goodman, Michael Reynolds and Darius Willis for a strong camp thus far, with Stowers even going as far as to say the three had played well enough to make up for the loss of Martin.
"I don't think the talent level has dropped there," Stowers said.
Veterans shine
When asked to identify the defensive linemen who had looked the best during the opening week of camp, Wyatt did not hesitate to single out a couple of veterans.
Wyatt said seniors Keba Agostinho (6-2, 277, first-string RE/T) and Kevin Young (6-3, 287, second-string nose tackle) had been among the most productive and confident players through the first seven days of camp.
"I think we have a lot of guys who are playing the best that they have since I've been here," Wyatt said. "Keba probably stands out the most. He's really playing hard and working hard and running to the football. He's been very productive this camp."
Asked for his guess about why the upperclassmen had done so well, Wyatt pointed to two factors.
"No. 1, they're tired of people saying they're no good," he said. "So they have a little chip on their shoulder. And, No. 2, they know there's new blood, new competition, and that's gone a long way toward making the whole group better."
Combs coming along
He came in as the No. 1-ranked juco player in the country and was one of the better-known Jayhawks before ever arriving on campus. But even his big personality did not make junior defensive tackle Marquel Combs immune to the difficulties of making the transition to Div. I football.
"He started off slow," Wyatt said of Combs. "He's adjusting to a new system, new techniques and playing against Div. I competition, but I see him getting better and better as we go through practices."
Combs' slow start did not discourage Wyatt because the 6-3, 290-pound pocket-pusher maintained a good attitude throughout the transition period.
"As we go, I think he's understanding that just because he's got some skills and he's been rated No. 1, he's still gotta put in the work," Wyatt said. "He wasn't here in the spring, so he's gotta kind of catch up on the mental part of it. He's realizing that, 'Hey, I can't just go out there and play and be as successful as I have been in the past.' But he's a smart guy. He knows when he plays good and he knows when he plays bad. And you can talk to him."