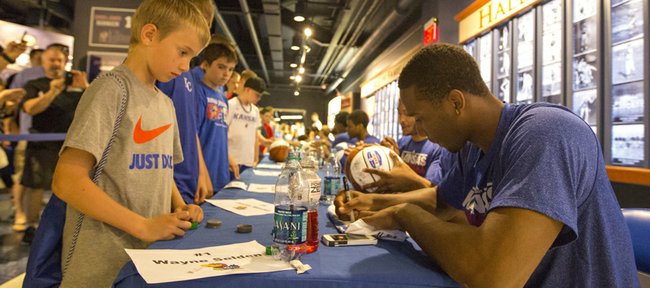 Kansas University's athletic department will continue to let its athletes sign autographs for fans, despite fallout from the Johnny Manziel sign-for-profit allegations at Texas A&M.;
KU football coach Charlie Weis on Tuesday said the Jayhawk players and coaches would sign for 30 minutes following Saturday's Fan Appreciation Day practice, to kick off at 11:15 a.m. at Memorial Stadium.
KU football posters, rosters and other items will be available for the team to sign. Any other items brought by fans for signing will have to be personalized by the coaches and/or players. A player or coach will ask the autograph seeker his/her name and include that on the signed item.
"You all know about this stuff that's going on. This is our happy medium," Weis said Tuesday.
Louisville football coach Charlie Strong on Monday said he would not let Cardinals players sign autographs at Sunday's Fun Day. Miami (Fla.) said it would allow the signing of only school-issued items.
KU associate athletic director Jim Marchiony said Tuesday the KU athletic department would continue to let fans line up outside the basketball team's locker room (northwest corner, Allen Fieldhouse) and obtain autographs after home games during the upcoming season. Autographs are a hot topic with QB Manziel allegedly having been paid by a dealer to sign a variety of items that were put on sale on the Internet and other locations.
"We have encouraged all our athletes when they sign something, they personalize it," Marchiony said. "The only reason somebody would not want that personalized is because they think it would be worth more on the market if it wasn't personalized. There's also a sign by the Media Room (NW corner) that says thanks but reminds everybody because of time constraints a player will be signing one item."
Marchiony said KU officials realize there are dealers who pursue the players for autographs in the autograph line and in the Allen Fieldhouse parking lot, with the sole intent of selling the autographed items. It is against NCAA rules for players to receive any money from those individual autograph seekers.
"Yes we are aware of them and I think it's a combination of the players sticking to the suggested guidelines (personalizing autographs and inking only one item) and us doing our part as administrators to help the players. It is an issue we will be mindful of going forward," Marchiony said. "We tell the players to be very comfortable saying to them (in parking lot), 'I have already done autographs. Thank you very much. I am going to be going home, now.'"
Marchiony said KU athletes and coaches appreciate the fact fans want autographs.
"The vast majority of folks who ask for autographs (ask) for purer reasons than the professionals," he said. "That is part of the connection between our teams and our fans. Every team (at KU) gives autographs."
Select-A-Seat: This is the week fans learn their basketball seat locations in KU's Select-A-Seat program.
"More people are taking more seats than they have in the past, yes," Marchiony said, when asked if a majority of fans are purchasing up to the allowable six tickets. "We are always in a sellout situation. This year we will be in a sellout situation much sooner than we have in the past.
"We've been able to offer mini-packs and half-season tickets (in past years), that kind of thing. We don't anticipate that is going to happen this year.
"It has gone smoothly over the first two days," Marchiony added. "I think our fans understand that the hype associated with this season has created an excitement and demand for tickets that you would expect at an even higher level than normal."
Challenge tip times: ESPN on Tuesday announced times for the Big 12/SEC Challenge.
KU will play Florida at 6 p.m., Central time, Dec. 10, in Gainesville, Fla. Other games: Texas Tech at Alabama, 8 p.m., Nov. 14; Auburn at Iowa State, 6 p.m., Dec. 2; Vanderbilt at Texas, 8 p.m., Dec. 2; West Virginia at Missouri, 6 p.m., Dec. 5; TCU at Mississippi State, 6 p.m, Dec. 5; Mississippi at Kansas State, 8 p.m., Dec. 5; South Carolina at Oklahoma State, 8:30 p.m., Dec. 6; Baylor vs. Kentucky, 9 p.m., Dec. 6, in Arlington, Texas; Oklahoma v. Texas A&M;, 6 p.m., Dec, 21, in Houston.
More like this story on KUsports.com