Have a tip?
Contact Journal-World reporter Caitlin Doornbos: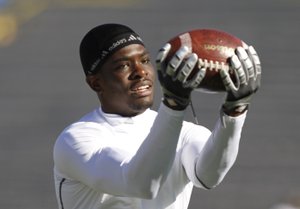 Another former Kansas University football player is facing charges in a robbery case that already ensnared Chris Martin, a once-touted defensive end, and two others, in May.
Chris Omigie, a former wide receiver from Arlington, Texas, was arrested today in Johnson County on suspicion of aggravated robbery in connection with a May home invasion in southwest Lawrence.
He was the fourth person to be arrested as Lawrence police investigated a May 13 robbery of cash and marijuana at gunpoint from a man at a home in the 1900 block of Camelback Drive. Also charged in the case were Jeremiah Letrell Edwards, 21, of Garland, Texas; Joshua Edwards, 28, of Lawrence; and Martin, 21, of Oakland, Calif.
Omigie's arrest comes after cases have moved forward against Martin and the other defendants. Martin is scheduled for trial on one count of aggravated robbery on Nov. 25. Joshua Edwards pleaded no contest in June to one count of conspiracy to commit aggravated robbery, and Jeremiah Edwards is scheduled to appear in court again on Thursday.
Omigie will face charges in Douglas County District Court, but his first appearance there has not yet been scheduled, according to the Douglas County District Attorney's Office. He was released from Johnson County Detention Center today on a $30,000 bond.
Omigie played as a junior for the Kansas football team last year. He previously ran into legal trouble with a DUI arrest here in 2011. He is not listed on the team's roster this year.