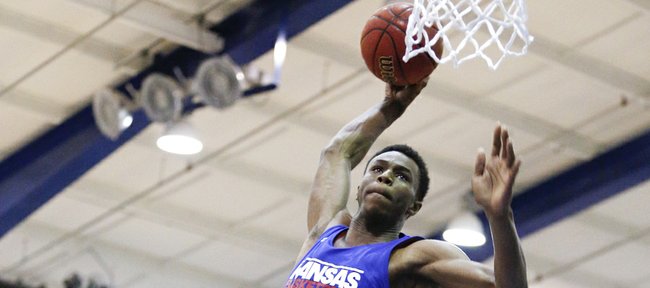 Kentucky has a whopping seven players, while Kansas University and Michigan check in with two apiece on ESPN analyst Chad Ford's updated, 30-player, 2014 NBA Draft "Big Board," which was released Monday.
Ford currently projects KU freshmen Andrew Wiggins and Joel Embiid to be taken Nos. 1 and 8 respectively. He has Kentucky's Julius Randle No. 2, followed by Andrew Harrison (7), Willie Cauley-Stein (14), James Young (20), Alex Poythress (21), Dakari Johnson (25) and Aaron Harrison (26).
Michigan's Glenn Robinson III and Mitch McGary currently rank Nos. 13 and 16 respectively, with no other college having more than one player on the Big Board.
In expanding the ESPN rankings to the Top 100 ... KU freshman Wayne Selden is listed at No. 46 and sophomore Perry Ellis No. 67. There are 60 total selections in the two-round draft, which Ford says will "be epic ... a number of teams deliberately gutted their rosters this summer to get as high as possible in the 2014 lottery. It's going to be big."
While acknowledging that "fans may have to be patient as he figures out how to fit into a pretty loaded Jayhawk squad," Ford continues to heap praise on the 6-foot-8 Wiggins.
"Many scouts believe he's the best young prospect to come into the draft since Kevin Durant. Wiggins is blessed with extreme athleticism. You hear names such as Vince Carter and Dominique Wilkins when people talk about his explosive leaping abilities," Ford wrote. "Wiggins is also a polished scorer who can shoot the three and get to the basket."
Louisville coach Rick Pitino, who has coached in the NBA, recently shocked many by saying 7-foot Cameroon native Embiid could go No. 2 overall in the 2014 Draft. He's only played basketball for two full seasons.
"The scouts I talked to aren't quite ready to go there yet, but they are very, very intrigued," Ford wrote. "Embiid is the riskiest player in the Top 10, but next to Wiggins, he might have the most long-term potential. ... His feel for the game is still a work in progress, but the physical tools are convincing. He has a 7-foot-5 wingspan, is a fluid athlete and is more skilled than one would think."
DraftExpress.com's early mock draft for 2014 has Wiggins No. 1 overall and Embiid No. 12. Senior Tarik Black is projected as final pick of the second round.
NBAdraft.net has KU with four first-round picks: Wiggins No. 1, Selden No. 5, Embiid No. 7 and Ellis No. 17.
For Chad Ford's projections, click here.
More like this story on KUsports.com