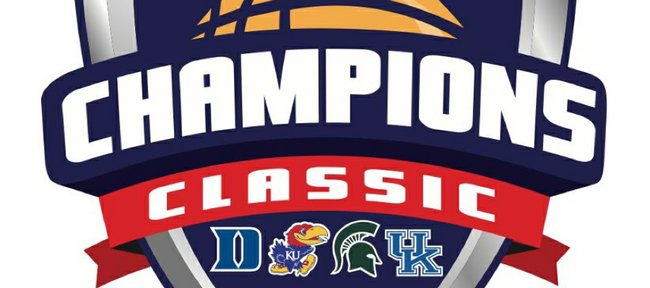 It looks as if the popular early-season Champions Classic — a one-day, one-site doubleheader matching college basketball powerhouses Kansas University, Kentucky, Duke and Michigan State in a round-robin format — will be renewed for another three years.
Michigan State coach Tom Izzo said Friday on Lansing, Mich., radio station WVFN, that he believed Kentucky had "a little problem (with scheduling)" that had been resolved. Izzo said "I think they (Wildcats) just re-upped. I think it's all but moving forward.
"We definitely wanted to sign up for another three years," Izzo added. "It's been a great event, good for our fans, alumni in those areas (New York, Atlanta and this year, Chicago). I don't know where it'll be at. There are rumors Atlanta, Indianapolis and Chicago. I've heard different rumors where."
Larry Keating, who is in charge of KU's scheduling as special assistant to the athletic director, said Sunday that KU has agreed to continue being a part of the four-team Classic. KU which lost to Kentucky in 2011 in New York and fell to Michigan State last season in Atlanta, will meet Duke at 8:30 p.m., Nov. 12 at Chicago's United Center. UK meets MSU in the early game.
"I think everybody's happy with it," Keating said of the four schools. "There have been discussions for a year about renewing it. It's a matter of everybody filling their schedules, (ESPN) getting the cities and facilities lined up (before anything is announced). I do believe it'll stay the first Tuesday of the season, anchoring ESPN's 24 hours of basketball."
Keating said the event has been great for KU alumni in New York and Atlanta. "And we expect a large crowd in Chicago," Keating said of the Jayhawks' massive alumni base in the Windy City.
KU will also play in the Battle 4 Atlantis Nov. 28-30 in Nassau, Bahamas. The Jayhawks will play in the Old Spice Classic in 2014 in Orlando, Fla.; Maui Invitational in 2015, a yet-to-be-determined tourney in 2016 and likely back to Atlantis in 2017.
Snider has KU on list: Quentin Snider, a 6-1 senior point guard from Louisville, who is ranked No. 31 in the Class of 2014 by Rivals.com, recently decided to re-open his recruitment after committing to Louisville on Aug. 4, 2011. Snider's dad, Scott, told Peegs.com that schools on his new list include KU, Indiana, Louisville, Minnesota, Marquette, West Virginia, USC, Illinois, UConn, UCLA, Memphis, Oklahoma State, Michigan State, Xavier, Cincinnati and Vanderbilt.
Oubre MVP: Kelly Oubre, a 6-5 senior from Bush High in Richmond, Texas, who has KU on his list of prospective schools, scored 22 points and dished seven assists, earning MVP honors at the Big Strick Classic all-star game on Saturday in New York City. He is ranked No. 19 in the Class of 2014 by Rivals.com. Oubre has a list of KU, Florida, Kentucky, Georgetown, Louisville, Oregon, UConn and UNLV.
Cheick Diallo, 6-9 junior from Our Savior New American High in Centereach, N.Y., who is ranked No. 6 in the Class of 2015, had 21 points and 13 rebounds. Diallo has scholarship offers from KU, UConn, Texas, Louisville, Syracuse, Villanova and others, Zagsblog.com indicates. Stephen Zimmerman, a 7-foot junior from Bishop Gorman High in Las Vegas, who is considering KU and many others, had 19 points and seven boards. He's ranked No. 2 in the Class of 2015.
Elite prospects: Several KU targets will be playing in the Elite 24 game on Aug. 24 in Brooklyn (6 p.m., ESPNU). They include: Tyus Jones, Stanley Johnson, Emmanuel Mudiay, Malik Newman, Oubre, Rashad Vaughn, Myles Turner, Justise Winslow and Zimmerman.
More like this story on KUsports.com