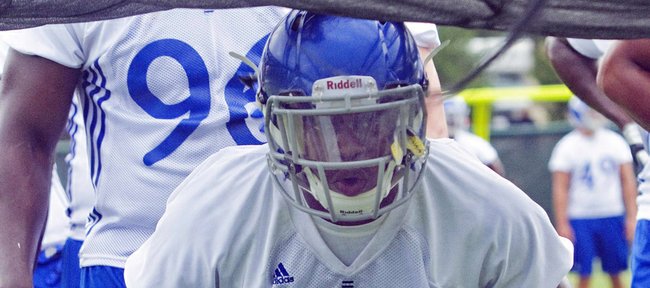 With the Kansas University football team's fall camp officially under way, it's time to start identifying the players who have the most to gain in the month of August.
While many Jayhawks, such as senior running back James Sims, junior linebacker Ben Heeney and junior speed demon Tony Pierson, already have made names for themselves and have carved out critical roles, there are dozens of others who are entrenched in battles for reps and playing time. More reps means more chances to show the coaches what they can do. And the more times a player can put quality thoughts in the minds of his coaches, the better his chances of playing this fall.
Here's a quick look at five guys who stand to gain the most from a solid August.
DE Michael Reynolds
It could be a make-or-break camp for the junior pass rusher from Wichita. The good news for Reynolds, the defensive MVP of the spring game two years ago, is that he should have ample opportunity to show whether he has matured to the point of being a reliable, three-down player or is the same guy who has recorded 13 tackles and one sack during limited time in 23 career games.
Reynolds possesses all of the physical tools he needs to be a pass-rushing menace. In the past, his coaches have referred to him as one of the few true pass-rushers on the roster. But in order to play meaningful snaps in KU's new fast-paced defense, players have to be more than that. And fall camp is the time for Reynolds to show whether he is.
DB Victor Simmons
As a true freshman in 2011, Simmons played 11 games at safety and was one of the emerging bright spots on a bad defense. But a free-fall down the depth chart and a move to linebacker during his sophomore season kept him from building on a pretty solid rookie season.
Simmons appears to have worked his way back into the good graces of the coaching staff, though, this time as a potential nickel back. KU coach Charlie Weis called the 6-foot-1, 220-pound Olathe product a man among boys, physically, and said coaches are giving him a chance at nickel because they didn't want him to get buried on the depth chart at linebacker.
Junior-college transfer Cassius Sendish was listed ahead of Simmons on the fall's initial depth chart, but with Sendish able to play cornerback and safety if need be, Simmons could snag a starting job with a solid camp.
WR Rodriguez Coleman
Here's the deal with the juco All-American from Garden City Community College: He has great speed. And that alone should give him a chance to stand out among KU's jumbled and unproven batch of wide receivers.
Christian Matthews and Justin McCay appear to have positioned themselves as the clear-cut top two options, but Coleman, who prefers Rodriguez and not Rod, just arrived last week and is in the infant stages of trying to prove himself.
Last year at GCCC, Coleman recorded 1,055 yards and seven touchdowns on 70 receptions. If the 6-3, 195-pound burner picks up the KU offense quickly enough to earn the trust of the coaches, he could emerge as KU's best big-play, deep-threat option.
OG Damon Martin
The offensive line is far from set in stone, and the coaching staff is in the process of nailing down KU's best five linemen so they can allow that group to start developing chemistry.
Martin, a 6-3, 295-pound sophomore who consistently has been one of the best performers in individual drills during the past two seasons, showed enough in 2012 to earn a start against Texas. He also showed enough to be left at home on a couple of late-season road trips. Although juco transfer Mike Smithburg entered camp ahead of Martin at right guard on the depth chart, Weis said he expected a good battle between the two, and this might be Martin's best opportunity to win a job.
K Michael Mesh
If you've been reading between the lines at all this offseason, you know the place-kicking job is Mesh's to lose. It's also his to win. All it will take to do that is a steady showing in camp.
Anything less opens the door for fellow juco transfer Trevor Pardula and returning senior Ron Doherty to make things interesting throughout fall camp. But, as things stand today, the Hutchinson Community College transfer seems like the odds-on favorite.
More like this story on KUsports.com