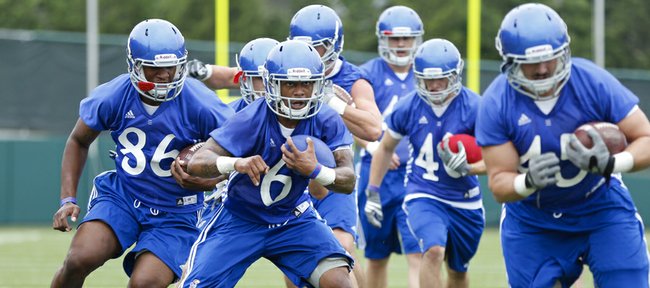 Unable to contribute but living and dying with every play in 2012 all the same, Kansas University quarterback Jake Heaps could not believe what was happening on the KU sideline late during the Jayhawks' home loss to Texas.
With KU clinging to a three-point lead and time slowly ticking away, Heaps, who red-shirted after transferring from BYU, remembered feeling as if the Jayhawks were on the brink of their second win during a rough season. Not everybody was with him.
"We were on the sidelines and guys were looking around like, 'Man, we might win this game,' instead of like, 'We got this,'" Heaps recalled earlier this week. "I couldn't believe we were like that. How could we think like that? We've been beating these guys all game long."
As it turned out, the "might" that Heaps spoke about was somewhat prophetic, as the Longhorns tacked on a touchdown with 12 seconds left and dropped KU to 1-7, the seventh consecutive loss in a season that ended 1-11.
Despite that heartbreaking loss, the torturous season and three consecutive years of forgettable football that have been played in Memorial Stadium, the Jayhawks entered fall camp on Thursday with an unexpected amount of confidence. The players say there are plenty of reasons they believe this year will be different, and Heaps says making sure that mindset was strong was a major focus of the past few months.
"We've really worked on our confidence, which we have to work for," he said. "You have to work in the offseason, you have to work extremely hard in the weight room and off the field and in your route-running and seven-on-seven and we met extra watching film and all that stuff. So these guys are feeling extremely confident because they've put in the work. They're prepared for this moment and we're going to continue to try and prepare the best we can for the season."
For the most part, the onus of keeping the Jayhawks' heads held high has fallen on the upperclassmen, the guys who have been there and enjoyed varying degrees of success.
"You have to go in thinking that you're gonna win every game," said senior wideout Christian Matthews. "If we all have that confidence, you never know what will happen."
Added junior running back Tony Pierson: "I look at the confidence coming from the spring game, carrying on to the offseason, the weight room and conditioning. I don't see it being weird because you can't get worse than 1-11. We only can go up. We're just working hard and staying focused."
Another element that has helped this team's confidence is the infusion of more than 30 newcomers, many of them from successful high school and junior-college programs that knew nothing but winning. Both Matthews and Pierson said the arrival of a new and confident crew has provided the entire team with a lift.
"For sure," Matthews said. "They've never seen losing like that, and we can feed off of them as much as they're feeding off of us and learning from us."
The bottom line for the Jayhawks as they enter a new season is that the slate has been wiped clean and their 6-30 combined record during the past three years no longer matters. Head coach Charlie Weis and his staff have stressed that and the players have bought it.
"He instills confidence in us and we believe in it," Matthews said.
But it's more than just saying they're confident or talking about team morale that has the Jayhawks puffing their chests out and walking with a little bounce.
"When you talk about how close we were to winning games last year, it was more of a mentality than it was actually physically," Heaps said. "These guys have improved so much as football players and it's just been so much fun to watch. We've improved so much as a football team and we're just going to continue to get better and better."
Fall camp continues throughout the weekend and the Jayhawks will practice in full pads for the first time on Monday.
More like this story on KUsports.com