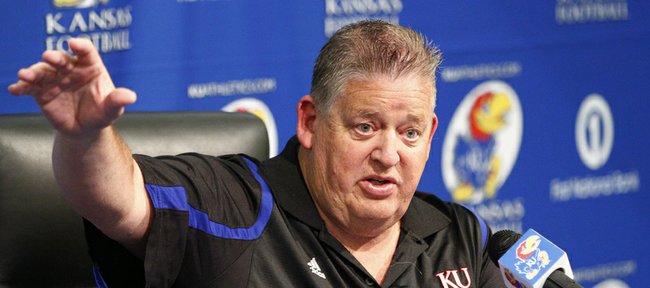 It took Kansas University football coach Charlie Weis less than seven minutes Wednesday to answer the question that often dominates early-August football discussions.
And it was a question that became particularly important this year because of the large number of junior-college transfers Weis and company signed in the offseason.
At his opening news conference of fall camp — the first practice is set for 2:50 p.m. today — Weis revealed that all but two junior college players had made it to campus and were ready for fall camp. While that number sounded impressive enough on its own, Weis pointed out that the two players who had not arrived yet, offensive tackle Pearce Slater and cornerback Kevin Short, were expected in by the end of the week.
"All those juco guys that you're all questioning about, they've all cleared, they're all in school and they're all here," Weis said. "Obviously, when you go this route that we took, to get all their academics in order was quite a challenge. And I'm very happy that that's where we are right now."
Perhaps the biggest reason for Weis' joy was the fact that 15 of the more than 20 juco newcomers the Jayhawks brought in this offseason appeared on KU's initial two-deep depth chart of the fall, which Weis revealed Wednesday at the Anderson Family Football Complex.
"Last year at this time, I had a tough time giving you a two-deep," Weis said. "And I probably had a tough time giving you one-deep in some cases. What I did this year was I put down a three-deep."
In some instances, four names were listed on the depth chart at a position, meaning not only will Weis and his coaching staff have more bodies doing battle during camp, but they also plan to see some intense battles play out during the next few weeks.
"In the beginning, the depth chart will be fluid and they will have from now until Aug. 17 to stake their claim," Weis said. "So I've already given you my drop-dead date. If they're not in the mix on Aug. 17 then they're basically gonna become show-team players. But I think I owe it to every player on the team to see what we've got. Don't have too short a leash because I think if you do that you could make a mistake and make a rash decision because you've got more players."
Harwell to sit
Weis said it would take a magic wand to make transfer wide receiver Nick Harwell eligible this season, so the Jayhawks are moving on as if he will red-shirt.
"The bottom line was he was never allowed to complete his last six hours," said Weis of the Miami (Ohio) University senior-to-be who needed to complete just six hours this summer to graduate and be eligible to play at Kansas this season. "And unless someone does something I'm not anticipating here, my intent with him is to treat (Marcus) Jenkins-Moore (injured linebacker) and Nick Harwell like I did Jake Heaps and Justin McCay last year. They'll work on everything football-related, get their academics in order, work on community service. There's a bunch of things they can do to make themselves better prepared and better people and proud Jayhawks."
Harwell is in town and will practice when the Jayhawks take the field for the first practice of fall camp tomorrow.
Bodies by Holsopple
For the second consecutive offseason, KU strength coach Scott Holsopple worked wonders with the Jayhawks during the summer months.
"My favorite part of my conversations with Holsopple is his book of body changes," Weis said. "He comes in and he shows you two pictures and it's really disgusting. If he showed me 80 pictures, 75 of them you can't even believe it's the same kid. I'm not saying that that automatically correlates to winning games, but, by deductive reasoning, you could figure these guys had to be working their butts off."
Martin fallout
In mid-June, Weis dismissed juco transfer Chris Martin from the squad after the defensive end failed to meet expectations outlined for him following an armed robbery arrest in May. Weis said Wednesday that losing the former five-star prospect who had committed to Notre Dame and played a season at Florida early in the summer was better than losing him early in the season.
"Sign me up," Weis said. "You'd much rather be already dealt the cards and then you can figure out how you're gonna play 'em. No one wants things happening like that, but ... with (sophomore) Ben Goodman, we were going in the other direction. He was going up to 270 (pounds) to go play defensive end and I called him in and said, 'Not so fast, big boy. Time to go on a diet.' So he went from eating like a pig to starving himself. He wasn't too happy with me that day, but the good thing about Ben is Ben just wanted to get his butt on the field. And that gave him an opportunity."
Injury report
Other than the absence of Jenkins-Moore, who figures to miss the season while recovering from knee surgery, KU enters camp with just one other notable injury. Weis said sophomore safety Tyree Williams was still recovering from an offseason injury and would not be ready for the start of practices.
"He's not 100 percent healthy so he won't run with the third group right now," Weis said. "But knock on wood, walking in the door, he's the only guy that isn't ready to go."
New-look D
In addition to listing a bunch of new names on the depth chart, the Jayhawks also unveiled a new defensive scheme.
"We're not listed as a base defense," Weis said. "We're listed as a nickel because everyone's got three and four wide receivers and you can't match base defense against three and four wide receivers and be competitive in this league."
The nickel defense, as one might guess, employs five defensive backs, three linebackers and a rotation of defensive linemen up front based on the look given by the offense.
"Defense in this league has changed," said Weis, who added that KU could put as many as six or seven defensive backs on the field at times this season. "This league has evolved. There are so many teams that are snapping the ball so fast and I really had to do a lot of study in December and January to sit down with my defensive staff and say, 'Fellas, we gotta make a bunch of changes if we're gonna compete in this league.'"
Heaps red-hot
Poised to enter his first KU camp as the starting quarterback, junior Jake Heaps is coming off of a fantastic offseason and has the confidence of his coaches and teammates. Asked what he wanted to see from Heaps in the coming weeks, Weis simply said more of the same.
"Carry over what we've seen so far, because if what we've seen so far is what we get, I think we're all gonna be happy," the second-year coach said of his first-year QB. "That's what we gotta see. It's gonna be a little different now. The whole tempo changes. This isn't spring ball anymore. This is guys trying to earn positions for the next couple weeks and it's gonna be very competitive out there."