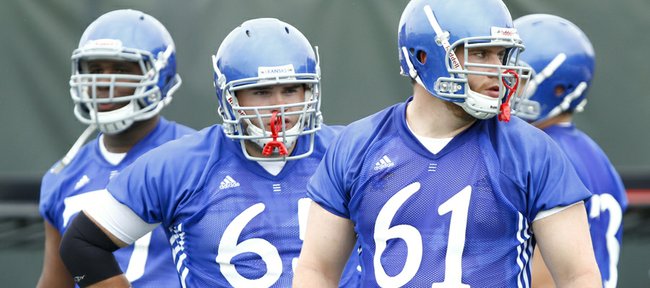 Near the end of spring football drills in April, Kansas University junior Pat Lewandowski gave a quick assessment of how he felt about being penciled in as the team's first-string left tackle just a year after moving over from the defensive line.
"The transition has been great," the 6-foot-5, 295-pound Lewandowski said at the time. "I've enjoyed it a lot. I'm loving my position. Life is great."
A few weeks later, life and everything else related to football became substantially tougher when Lewandowski was moved to yet another position by the KU coaching staff.
Call it the Toben Opurum Effect, where a selfless player with loads of talent and athletic ability looks good in so many different spots that it becomes difficult to pinpoint where he can help the most.
"I don't know what you want to label it," Lewandowski said Thursday. "But I go where I'm needed."
This latest chapter in the Blue Valley West graduate's football life, which features him opening fall camp as KU's No. 1 center, began in late spring, when KU coach Charlie Weis approached Lewandowski about making the move from left tackle to center. The idea originally came from KU quarterbacks coach Ron Powlus, and both Weis and Lewandowski needed some time to absorb the shift.
"They said, 'This is gonna be a huge shock to you,'" Lewandowski recalled. "And it was even a huge shock to Coach Weis when it was first brought to him. Coach Powlus presented the idea and it just kind of went from there."
Although Lewandowski's two offensive line positions have distinctly different roles and responsibilities, he said the transition had gone smoothly because of the way he chose to learn the left tackle spot last spring. Instead of focusing only on his duties, Lewandowski picked up the entire playbook and learned what each O-Line position did in any given situation. His understanding of all five spots provided him with a head start. And he spent the summer trying to get comfortable with the snap as well as reading coverages and defensive fronts.
"Pat and I have worked closely this offseason, and it's really been fun working with him and developing that chemistry," said KU quarterback Jake Heaps. "He's been all-in. And just being around a guy that wants to get better and do anything he can to help this program has been great. With a guy like that, it doesn't matter where you put him, he's gonna excel."
Weis cited Lewandowki's big frame and intelligence as the biggest reasons he signed off on Powlus' idea, but it was something much simpler that won his approval.
"It's nice to be able to see somebody give a shotgun snap and land it in the quarterback's hands," Weis said. "That's a good place to start."
Sophomore Dylan Admire and junior-college transfer Mike Smithburg spent the spring working at center, but Admire always has been a bit undersized and Smithburg struggled with the snap. With Smithburg better suited to play guard and Admire already comfortable as a quality depth guy, the door was open for Lewandowski and he jumped through it. Although KU's new center has not gone against a live defense just yet, Heaps said he felt Lewandowski had learned the ins and outs of the position well. The two spent countless hours working on snaps this summer, ripping off more than 100 a day, four days a week. In addition, Lewandowski also said he spent time snapping to a spot on a wall five yards behind him while critiquing himself in front of a mirror throughout the snap.
"I think he's there," Heaps said. "At left tackle, he was helping make calls, so he fit into the position of center and he is the leader of this offensive line."
Just the mere thought of that still kind of blows Lewandowski's mind. For starters, he played offensive line for just one season in high school and, even then, he was a right tackle. Beyond that, he never thought he would enjoy playing offense again after experiencing the thrills of being a hard-charging defensive end known for putting offensive players on their backs.
"It's not something I was particularly looking forward to, but I was gonna do it for the team," said Lewandowski of moving from defense to offense in the first place. "Then it turned into something I really enjoyed, especially because I got to study (former Jayhawk) Tanner Hawkinson for a year and work with (O-Line) coach (Tim) Grunhard. It really fits my competitiveness. It really draws me in to line head-up against that one person and you're trying to beat him every time. No matter what he does, you have the ability to stop that. I didn't think I'd like it, but I've really enjoyed it."
More like this story on KUsports.com