Have a tip or story idea?
---
More stories
Photo Gallery
Jayhawk memorabilia collection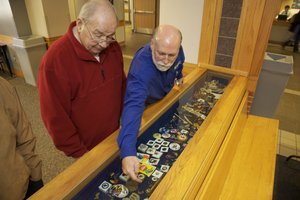 Hundreds of Jayhawk items are going up for auction after being displayed for the past three years at the Kansas Union.
A collection of more than 1,000 pieces of Kansas University memorabilia is going up for auction after spending years on display on the KU campus.
The collection's owner, Bud Jennings, put the Jayhawk memorabilia on display at the Kansas Union three years ago in hopes a collector would buy it. The price for the whole collection was $130,000, and the university's efforts to raise that money failed, said Mike Reid, director of marketing services for the KU Memorial Unions.
Jennings, a longtime Lawrence carpet store owner, was 80 and retired when he brought his flock of Jayhawks to display on the Kansas Union's second and fourth floors. He had started the collection in 1939.
The many statues and sculptures are made from bronze, copper and the more unusual acrylic. Many have historical significance, including an early model that KU art professor Elden Tefft used to create the iconic statue in front of Strong Hall.
Other items are more whimsical. There's the rare full bottle of "Jayhawk" soda, bottled in Ottawa decades ago. In the fourth floor display, among fundraising pins and other small items, sat what Jennings called "the smallest Jayhawk in the world."
Resting on the head of a penny, its features are just barely visible inside the glass case. If you look hard enough, you can make out the letters "KU" painted on its chest, Jennings said.
Earlier this year, Jennings told KU officials that he had decided to sell the collection to provide for his retirement, Reid said. The majority of the memorabilia has already been boxed up and removed from the student union, and some of it will be up for sale on eBay as soon as next week. The rest will likely be sold at an auction in Lawrence in about three months. A date for the auction has not yet been set.